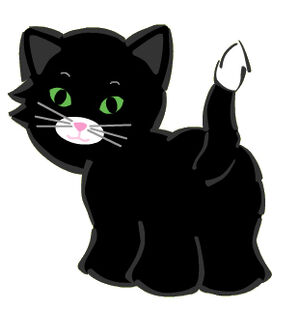 Licorice is a black American longhair cat that was marketed as part of the Just Like You and My American Girl line of items. She was a mascot for the line along with Coconut during her initial release.
Licorice was released in 2003 and had one modification after her release: her rhinestone collar became a velcro ribbon-necklace with plastic jewels. She was black with green eyes and a white chest and tail tip. She came with a rhinestone collar, a cat toy, a cushion, and a fuzzy sticker. Like Coconut, she had a magnet to hold accessories.
Licorice was retired in 2008. She could still be found in some bookstores with her books, but was otherwise phased out.
Licorice was given a redesign and rereleased in 2012, but retired again in 2014 with the retirement of the older, named pets.
A cat similar to Licorice, the Tuxedo Cat, was released in 2017.
Items for Licorice
Coconut had several accessory sets that include clothes and headgear to dress her in; many of these are interchangeable with Licorice as well.
Books
Licorice could come bundled at various bookstores with the book Coconut's Quiz Book, prior to her 2008 retirement. This version does not come with the cushion or toy.
On Clothing
Licorice had two Just Like You outfits with her image prior to her initial retirement. Unlike Coconut, she was generally only featured on an accessory. When rereleased, she was on one outfit with Coconut before being retired again.
See Also