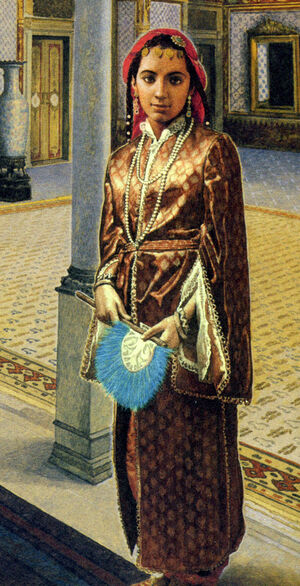 Leyla was one of the Girls of Many Lands, representing Turkey during the Tulip Period in 1720. Leyla was released in 2003 along with Saba and Kathleen Murphy. She is the primary character of Leyla: The Black Tulip.
Personality and Facts
Leyla is a twelve year old girl living in Istanbul, Turkey in 1720. Her real name is Laleena, but is changed to Leyla early on to be more properly Turkish. She is very caring and protective, and is always thinking of others. However, she is very willing to take risks. She appears quiet and shy, and has an ability to grow flowers, specifically tulips, very well. She also loves to draw and paint, is interested in poetry, and has a passion for her family. She is very curious and initially asks a series of questions about the world around her. She is generally thought not to be very poised, though she is considered beautiful with autumn colored eyes and long dark hair. She strongly dislikes being treated unfairly as a slave, and she dislikes when others are treated harshly. She believes that every change that happens is destined to happen. She can be a little naive and secretive.
Book
Leyla: The Black Tulip by Alev Lytle Croutier
Doll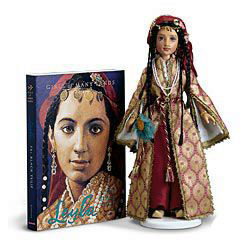 The Leyla doll was intended for display only. Her dark brown hair came in a multibraided long style with pearls threaded into four braids (two front, two back) and she has light brown eyes. The components of her outfit were:
White sheer lace trimmed split-sleeve blouse
Tan and burgundy silk brocade kaftan with split sleeves and gold lace trim
Burgundy silk baggy trousers
Burgundy and gold twisted waist sash
Leather pointed and embroidered slippers
Burgundy gold embroidered scarf with gold lace at ends, twisted with gold and "diamond" chain and attached gold and emerald broach
Gold coin chain hair decoration
Emerald and gold dangling earrings
Long pearl double necklace with gold and emerald pendant
Gold and ruby bracelet
Thin gold bangle bracelet
Gold bangle bracelet
Blue feather and gold hand fan
Community content is available under
CC-BY-SA
unless otherwise noted.