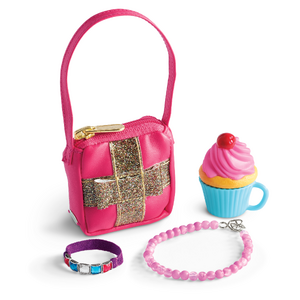 The Let's Celebrate Accessories I are an accessory set for the Create Your Own line released in 2017 and retired in 2019. It was also available separately for $30 and later on sale for $12.
Purse
Pink vinyl purse with strap. Pink zipper with gold zipper pull. Sparkly gold fabric on front of purse with a bow shape layered on top.
Necklace
Pink plastic beaded necklace with silver clasp. Some beads are solidly pink and some are translucent.
Bracelet
Purple elastic bracelet with rhinestones in pink, blue, and silver colors.
Cupcake
Blue plastic cupcake holder with handle to fit over doll's finger so it can be held. Holder is molded to look like a cupcake wrapper. Cupcake is yellow cake with pink frosting and a cherry on top.
Community content is available under
CC-BY-SA
unless otherwise noted.