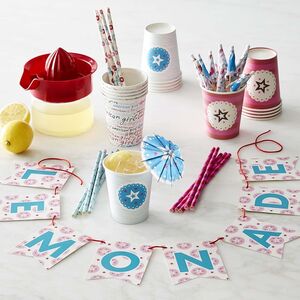 This is about the Williams-Sonoma set. For the Bitty Twins accessory set, see Lemonade Stand Set.
The Lemonade Stand Kit is an American Girl item made in partnership with Williams-Sonoma released in 2016. Retail cost is $29.95.
Juicer
Red plastic juicer with clear glass container below for collection of juice. 4" x 4 3/4" x 6" high. 12-oz. capacity.
Cups
Eighteen 8 oz. cups. Six cups are white with light blue stripes and a circular blue doily design on the side and white AG star logo in the center; Six cups are white with American Girl in cursive in different sizes and colors with design in shades of pink, red, and blue; six cups are red and pink striped with white doily design on side and black AG star cutout in center with decorative stars around it.
Umbrellas
Eighteen 3 1/4" drink umbrellas. Six have large blue doily design with white AG star logo in the center; six have smaller doily designs in red and blue with AG star logo in center; six are red at the top and have American Girl written in cursive in pink, red, and blue.
Straws
Eighteen 7 3/4" paper straws. Six are light blue with an AG star pattern; six are white with small circular doily patterns with AG star logos in the center; six are pink and red striped with an AG star pattern.
Banner
24" paper banner. Each letter of 'Lemonade is on a different banner flag. Red woven string cord connecting flags. Each letter is written in blue capital letters. Background of paper is white with light pink AG doily shapes with AG star in center.
Tip Guide
Guide with tips on running a lemonade stand and preparing lemonade.