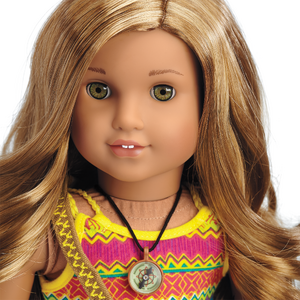 The Lea Clark doll was released in 2016 and was available for only one year before retirement. She is considered the Girl of the Year for 2016.
Skin: Light Medium
Brows: Arched Feathered
Hair: Hip length, layered light brown hair with highlights and a left side part.
Eyes: Hazel
Meet Outfit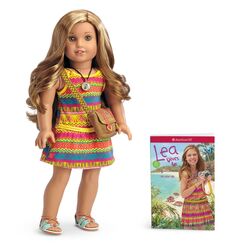 Dress
Sandals
Panties
Lime green panties with white elastic edging.
Messenger Bag
Necklace
The matching girls' outfit was available:
Dress: $48
Messenger Bag: $38
Trivia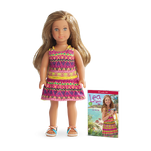 A mini doll of Lea was released in January 2016 and sold through bookstores and third party merchant sites.
Lea was the first doll to not have neck strings; the head is attached with a plastic zip tie, which is hidden inside the neckline with a closed seam at the back.
Lea's meet outfit, sans messenger bag, was sold as the Tropical Adventure Dress as part of a Cyber Monday deal in 2017 for a discounted price of $12.
See Also