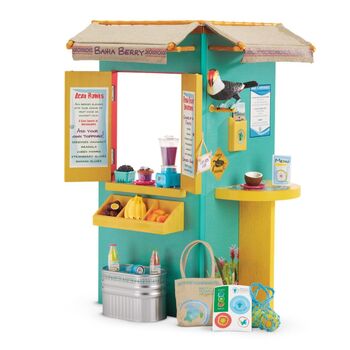 Lea's Fruit Stand is part of Lea's Collection and, like her, was retired at the end of 2016. The retail cost was $150.
Fruit Stand
Double-sided fruit stand.
Aqua blue faux-stucco walls with bright salmon pink board-molded inner walls. Large pickup window on one side. Neon yellow counter extending through window and along both walls on the inside, with print on top surface of aqua, green, and blue small square tiles. Neon yellow half-round table with support of same color on outside of solid wall. Mosaic-style wave on tabletop of the same printed tiles as on the counter. Three angled open storage compartments below window; these are joined as a single, neon-yellow shelf unit. Oval shaped grey plastic "metal" drink tub at base of window wall filled with molded blue non-removable ice that has three indentations to hold included drinks. Two neon yellow shutters with salmon pink knobs.
Insides of shutters have printed menus with wide blue edge printing and text in various colors:
AÇAI BOWLS
Açai berries blended with your choice of fruit juice or coconut milk.
A GOOD SOURCE OF ANTIOXIDANTS
Add your own toppings!
Shredded Coconut
Granola
Cubed Mango
Strawberry Slices
Banana Slices
FRESH FRUIT SMOOTHIES
Choose up to 3 Fruits:
Mango
Banana
Passion Fruit
Strawberry
Coconut
Açai Berries
Choose a Base:
Fruit Juice
Coconut Milk

Neon yellow brochure box (with blue and green turtle logo) and peg-shaped perch on outside of stand solid wall (above table). Print below table of green leaves and magenta flowers. Two signs printed on outside of solid wall; amber diamond shaped "Turtle Crossing" sign below perch, and large informational poster next to brochure box. Poster is white with border, wave graphics, and text in multiple shades of blue. Text is as follows:
Make a Difference!
Help protect Sea Turtles
IF YOU SEE BABY TURTLES OR HATCHLINGS
Watch your step/Don't shine any lights on them/Let turtles crawl to the sea on their own.
IF YOU SEE A NESTING TURTLE
Keep your distance/Stay quiet/Don't shine any lights on or near it.
REMEMBER
Keep beaches clean. All litter may be mistaken for food or entrap the turtles.
Below text is a turtle logo identical to the brochure box logo.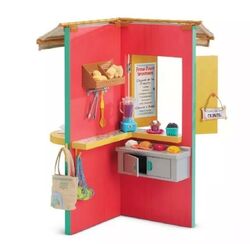 Inside below the counter on the window wall is a silver plastic storage cabinet with four square wells molded into the top of cabinet to hold toppings and two doors with aqua blue semicircle handles.
Small light brown woven-molded basket shelf on inside solid wall above counter, divided into two diagonal open storage compartments.
Silver plastic rack below basket shelf with two hooks to hang utensils. Two neon yellow peg-style hooks at corner; one on inside of solid wall below counter, one on edge of solid wall at counter level. Small indents at top edge for attaching awnings.
Two off-white canvas awnings on tan bamboo-molded frames that attach to top of the fruit stand. Two rows of painted salmon-pink dots outline a purple painted zigzag/diamond pattern. Gap centered around purple text reading Bahia Berry on awning for serving window wall.
Toucan
Solid plastic miniature toucan with molded feathers in black and white. Light aqua feet curved to fit around perch. Red feathers at base of tail; amber feathers around dark eyes. Beak in shades of lemon yellow to orange with black heart shaped marking at tip.
Interchangeable with the parrot from Lea's Rainforest House as both sets of claws are molded so as to grip the variant perches.
Spoon
Salmon pink plastic spoon.
Wooden Spoon
Tan plastic/faux wooden spoon. Neon yellow painted handle with hole. Neon yellow loop of cord through hole to hang spoon on a hook inside the stand.
Tongs
Light gray plastic tongs. Oval shaped graspers with scalloped edges.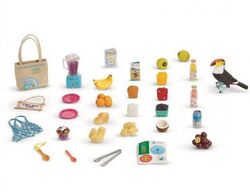 Plates
Two dark pink plastic plates. Plumeria emblem on each plate (orange outlined flower surrounded with an orange ring and a circle of aqua dots).
Açai Bowl
Small clear plastic bowl with purple plumeria emblem. Non removable purple açai filling with multicolored toppings of light brown granola, amber mango chunks, blue berries, red strawberry slices, and white coconut.
Bread Buns
Three round connected pão de queijo bread buns. Textured and shaded on top to resemble grated cheese.
Pamonha cakes
Two three-connected bundles of "pamonha" corn cakes. Pale green-yellow cornhusks.
Mangoes
Four molded mangoes with peach-orange to orange-red gradient coloring.
Passion Fruit
Small pile of passion fruits. Dark purplish brown, with one fruit split open to reveal off-white rind and yellow inner pips.
Bananas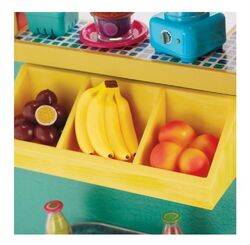 Bunch of six yellow bananas. Dark brown accents at tips and stems with lime green gradient at stems.
Green Coconuts
Two miniature green coconuts with tan to light green gradients. Darker green molded detail on opposite end.
Coconut Half
Brown coconut half with visible white meat.
Fruit Carton
Aqua green square plastic carton. Three slits at each lower edge.
Açai Berries
Dark purple açai berries with lighter accents. Are able to fit in square wells in the fruit stand storage and fruit carton.
Cubed Mango
Mango cubes. Subtle shading on texture. Are able to fit in square wells in the fruit stand storage and fruit carton.
Granola
Collection of granola. Subtle shading on texture. Are able to fit in square wells in the fruit stand storage and fruit carton.
Strawberries
Group of whole and sliced small strawberries. Are able to fit in square wells in the fruit stand storage and fruit carton.
Shredded Coconut
White shredded coconut. Are able to fit in square wells in the fruit stand storage and fruit carton.
Net Bag
Small aqua blue netted bag.
Blender
Doll-sized blender. Aqua blue square base. Single small gray button and gray twist knob with marked speed settings. Clear blender top detaches from the base and is filled with a purple smoothie liquid with swirled texture on top. Removable clear lid. Clear handle and molded spout.
Mango Juice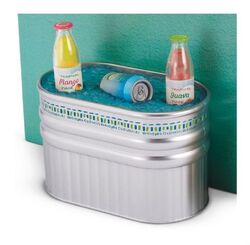 Bottle of yellow mango juice. Dark pink lid with plumeria emblem. Pale blue and white label with image of mango and Tropical Mango Juice/100% Juice
Guava Juice
Bottle of pink guava juice. Green lid with plumeria emblem. Pale blue and white label with image of guava fruit and Tropical Guava Juice/100% Juice.
Coconut Water
Blue/silver drink can of coconut water. Image of green coconuts and Organic Coconut Water with pulp, 100% Natural.
Tote Bag
Beige canvas tote bag. Blue, aqua, and green print of stitched border around upper edge. Front has logo composed of aqua Amigos do Oceano, green Turtle Sanctuary, and salmon pink BRAZIL in top right corner; large blue and green turtle logo in bottom left corner. Opposite side of tote has green American Girl logo at center bottom.
Sign
White dual-sided sign framed in tan bamboo with beige hanging cord to hang sign.
First side: Sorry, we are CLOSED in green and purple text; pale purple asymmetrical border and black stenciled butterfly. Second side: Come back soon! in purple with smaller butterfly logo.
Brochure
Paper brochure for Amigos do Oceano Turtle Sanctuary. Front has the Amigos do Oceano turtle logo on a white band above a photo of a baby sea turtle on a beach. Narrow aqua band at the bottom.
Menu
Fruit stand menu. Front has light blue and white background with dark green MENU and plumeria logo (salmon pink flower outline, neon yellow ring, blue dots) on front. Inner text in orange, green, blue, and indigo as follows:
ACAI BOWLS


Base:
Açai berries blended with fruit juice or coconut milk
Add your own toppings!
Toppings
Granola
Cubed Mango
Strawberry slices
Banana slices
Shredded coconut
SMOOTHIES
Pick any combination!
Fresh or Frozen Fruit
Mango
Banana
Passion Fruit
Strawberry
Coconut
Açai berries
Blend with
Fruit juice or coconut milk

Obverse is blue and white with following text:
MORE
Pamonha
Savory corn cake wrapped in a corn husk
Pão de Queijo
Brazilian cheese buns
Assorted Fruit
Fresh passion fruit, bananas, mangoes and coconuts sold by the pound
Drinks
Mango juice
Guava juice
Coconut water

Stickers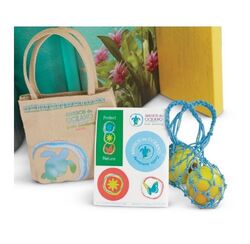 Sheet of stickers:
Round light blue sticker with blue/green turtle logo; AMIGOS DO OCEANO Turtle Sanctuary
Rectangular white sticker with turtle logo, AMIGOS DO OCEANO Turtle Sanctuary
Round white sticker with blue/green butterfly in pink ring with ring of pale blue dots
Round pink sticker with neon yellow plumeria silhouette in neon yellow/white ring and a ring of aqua-blue dots
Large rectangular green sticker with turtle, plumeria, and butterfly logos; Protect Nature.
Community content is available under
CC-BY-SA
unless otherwise noted.