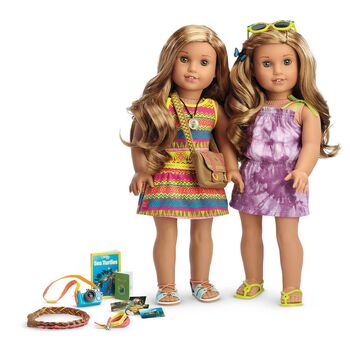 This is a list of all the items that was available for Lea Clark. As Lea is a Girl of the Year, she and her items were only available from January 2016 to December 2016 before retiring.
Doll
Lea came with a paperback copy of Lea Dives In.
Outfits
Accessories
Books
Movie
App
For Children
Lea's Exclusive Collection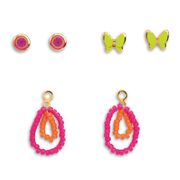 Lea's Exclusive Collection consisted of the doll, meet book, Lea's Accessories, and Lea's Beach Dress for $180, and $196 for the option to add ear piercing and a set of earrings exclusive to Lea:
Pink-flower circular studs
Green and gold butterfly studs
Pink and orange beaded dangles
Notably, the earrings are on gold backgrounds/with gold fixings; most earrings are sold with silver settings and backings.
Lea's Whole World
A Whole World Collection was not released.
Debut Giveaway Item
Lea's giveaway item was a pink lycra sarong in a giveaway envelope.
AGP Birthday Party Giveaway Shirt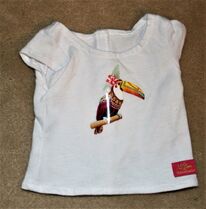 For Lea-themed birthday parties held at AGP bistros, girls were given a doll-sized white t-shirt with a picture of a toucan on it. These gifts were part of the deluxe birthday party.
References