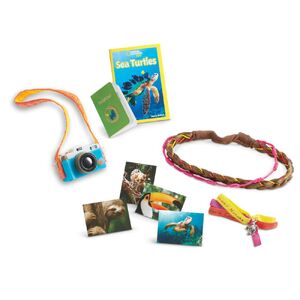 Lea's Accessories are part of Lea's Collection and, like her, were retired at the end of 2016. The retail cost was $32.
Camera
Aqua blue and white plastic camera. Black cylindrical lens with bronze-gray border. Round bronze-gray button on front. Rectangular "flash" and "viewfinder" slots in upper (white) section of camera front. Round bronze-gray knob sticking up from left side of camera. Amber cloth detachable neck strap with salmon pink zigzag and diamond embroidery decorations. Clear thumb grips on each side of camera for doll to hold. Two bronze-gray round buttons on top of camera. Back of camera has rectangular black screen and black button panel with four-way select buttons, as well as the other side of the viewfinder. Small plug socket in side of camera.
Headband
Braided doll-hair headband in Lea's caramel color. A brightly colored cord is woven through each strand of the braid; yellow, orange, and pink. Secondary band in bright pink knotted cord. Elastic at back of neck covered in tan fabric, this is to ease in wearing and will be hidden by the doll's hair when headband is worn.
Photographs
Four photos printed on stiff glossy paper: sloth in tree, sea turtle above coral reef, close-up of toucan with open beak, and margay cat on a branch.
Bracelet
Three-stranded ribbon wish bracelet. Text on each stretchy ribbon band:
Yellow with pink "Peace and Harmony Nature"
Orange with green "Confidence and Strength Courage"
Pink with blue "Friendship and Love Happiness"
All ribbons are knotted into one silver sea turtle charm.
Passport
Bright green passport. Front cover is labeled "PASSPORT" in metallic gold lettering above graphic of gradient blue-to-green butterfly surrounded in a salmon pink ring, a white ring, and a circle of metallic silver dots. Back cover is blank save for a metallic gold "American Girl" logo at bottom edge. Rounded corners. Stitched white binding. Inside is light blue text reading "UNITED STATES OF AMERICA", a green-bordered photograph of the Lea doll wearing the T shirt from the Rainforest Hike Outfit, and her information printed in black text: "Report to: 12345678. Full Name: CLARK, LEA. Date of Birth: 14 AUG 2005. Place of birth: MISSOURI, U.S.A. Date of issue: 1 SEP 2015. Sex: F. Date of expiration: 1 SEP 2020." Six glossy white pages follow the information page; three of which are labeled "DESTINATION" in green. Graphics decorate these pages: blue turtle outline, blue plumeria outline, green turtle silhouette circled with a blue ring, blue butterfly silhouette circled with a green ring.
Book
Miniature abridged copy of National Geographic Kids. Cover shows a sea turtle among several tropical fish and is labeled "Sea Turtles (by Laura Marsh). Internal pages contain pictures and facts about sea turtles.
Community content is available under
CC-BY-SA
unless otherwise noted.