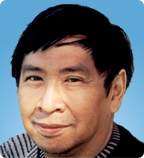 Laurence Yep is an author for American Girl.
Biography
Yep was born in San Francisco, California, in 1948. He graduated from the University of California - Santa Cruz in 1970 and earned his doctorate in English from the State University of New York - Buffalo. He and his wife, Joanne Ryder, currently live in San Francisco.[1] He teaches at the University of California - Berkeley.[2]
American Girl Books
Other Works
Golden Mountain Chronicles
The Serpent's Children
Mountain Light
Dragon's Gate
The Traitor
Dragonwings
Dragon Road
Chld of the Owl
Sea Glass
Thief of Hearts
Dragons of Silk
Dragon series
Dragon of the Lost Sea
Dragon Steel
Dragon Cauldron
Dragon War
Chinatown Mysteries
The Case of the Goblin Pearls
The Case of the Lion Dance
The Case of the Firecrackers
City trilogy
City of Fire
City of Ice
City of Earth
The Tiger's Apprentice
The Tiger's Apprentence: Book One
Tiger's Blood: Book Two
Tiger Magic: Book Three
Ribbons series
Ribbons
The Cook's Family
The Amah
Angelfish
Later, Gator series
Later, Gator
Cockroach Cooties
Skunk Scout
Other books
Seademons
Tongues of Jade
The Rainbow People
Sweetwater
The Star Fisher
Dream Soul
Hiroshima: A Novella
The Earth Dragon Awakes: the San Francisco Earthquake of 1906
Lady of Ch'iao Kuo: Warrior of the South (The Royal Diaries series)
The Journal of Wong Ming-Chung: A Chinese Miner (My Name Is America series)
The Imp That Ate my Homework
When the Circus Came to Town
Kind Hearts and Gentle Monsters
The Mark Twain Murders
The Tom Sawyer Fires
Shadow Lord (Star Trek novel)
Monster Makers, Inc.
Nonfiction
American Dragons: Twenty-five Asian American Voices
The Lost Garden
Picture books
The Magic Paintbrush
The Dragon Prince: A Chinese Beauty and the Beast Tale
The Butterfly Boy
The Shell Woman and the King: a Chinese folktale
The Khan's Daughter: a Mongolian folktale
The Ghost Fox
The Boy Who Swallowed Snakes
The Man Who Tricked a Ghost
The City of Dragons
Plays
The Age of Wonders
Dragonwings
Pay the Chinaman
Fairy Bones
HI
See also
References
Community content is available under
CC-BY-SA
unless otherwise noted.