"Lanie" redirects here. For the doll, see Lanie Holland (doll). For the book, see Lanie.

Lanie Holland is the eighth Girl of the Year, released by the American Girl Doll company in 2010.
Character
Lanie is a ten-year-old girl living in Cambridge, Massachusetts.[1] She enjoys science and nature, and considers herself a scientist.
Lanie is the middle of three children; she has a younger sister named Emily and an older sister named Angela. She dreams of becoming an expert scientist and explore deep jungles in Asia, being just like her Aunt Hannah, tracking wildlife, or trying experiments. She keeps her own nature journal with "factoids" and notes, and some of these notes are sprinkled in the text of the books.
Lanie is quite interested in science; she uses many large, scientific words in her speech and thoughts. However her thoughts are still quite childlike despite the scientific terms (for example, she believes there was a genetic mismatch when she was "gestating" in her mother that resulted in her enjoying the outdoors more than the rest of her family).
At the start of the story Lanie's best friend Dakota, who is a fellow nature lover like Lanie, is halfway across the world as her father is rescuing orangutans in the deep jungle of Indonesia. The two girls communicate with each other through email. Lanie's email is hollandnotthecountry@4natr.net.
She has a bunny named Lulu.
Family
Books
See: Lanie Holland (doll)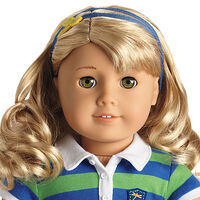 Collection
See: Lanie's Collection
See Also
References
↑ The envelope for Lanie's letter specifically mentions Cambridge, Massachusetts.