The Lacy Pinafore and Rosebud Circlet (also known as Samantha's Pinafore Dress and Lacy Pinafore Dress and Rosebud Circlet) was introduced to Samantha's Collection in 1987 and retired in 2008. It is associated with the book Happy Birthday, Samantha!. Retail cost was $22.
Dress
Pink and white striped taffeta dress. Short puffed sleeves trimmed with white lace. Velcros in back.
Pinafore
White sheer cotton pinafore. Lace trimmed at straps. Ties in back.
Rosebud Circlet
Ribbon circlet made of pink and green ribbon rosebuds on a darker pink ribbon. Pink ribbon streamers on the side. Ties around head.
Stockings
White knee-high lacy stockings.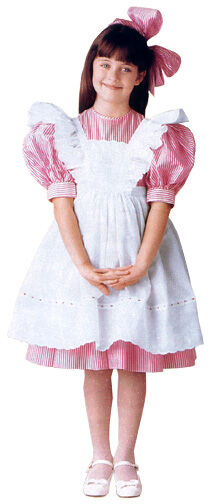 The matching outfit was available:
Peppermint Pinafore: $115.
French Hairbows: (Pink striped) $15
Party Tights (white and ecru): $7
Mary Janes (white): $34

These were phased out around 2000.
Trivia