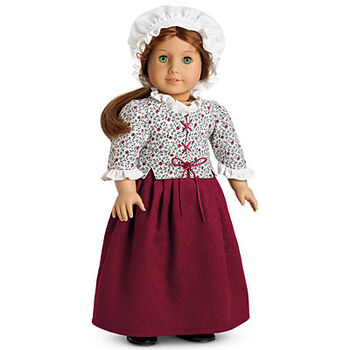 The Laced Jacket and Petticoat (also known as Felicity's School Outfit and Felicity's Laced Jacket, Skirt, and Mob Cap) was introduced to Felicity's Collection in 1991 and retired in 2009. It is associated with the story Felicity Learns a Lesson. Retail cost was $18 and later increased to $24.
Shortgown
White print shortgown. Print is of red flowers and green vines. White ruffled trim on collars and cuff. Red cord to lace front closed; originally a ribbon and later a shoelace style lace.
Skirt
Berry brocade print skirt. Velcros at sides at gathered waistband, leaving gaps for pocket access.
Cap
White mob cap. Ruffle lace trim.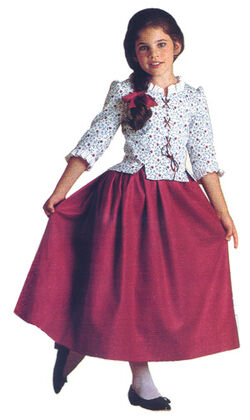 The matching outfit was available as the Colonial School Dress; it was phased out around 2000. It has sewn-in panniers.