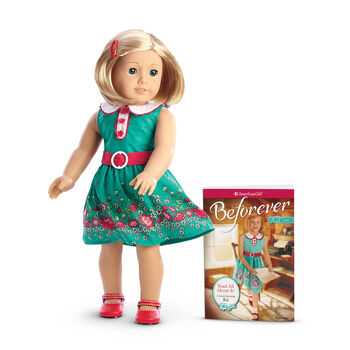 The Kit Kittredge doll was released in 2000 and updated in Fall 2014 with BeForever.
Kit Doll
Hair: Blonde, bob length, side part, no bangs.
BeForever dolls had the hair changed slightly with slight tapering.
First Edition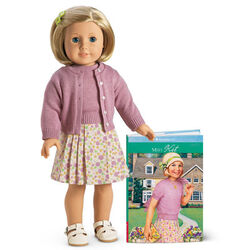 Kit's first meet outfit displays the slightly more casual styles of the era with tops and skirts rather than the more prevalent dress-like styles that dominated previous fashion eras.
After the launch of BeForever, the set was sold (minus the barrette) as Kit's Classic Outfit for $36 until it was finally retired.
Sweater
Lavender knit sweater. Short-sleeved crew-neck; ribbing at neckline, cuffs, and waist. Silver snaps for closure.
Cardigan
Lavender knit cardigan. Long sleeved crew-neck; ribbing at neckline, cuffs, front plackets, and waist. Five translucent pearl functional buttons down front placket.
Skirt
Floral print linen pleated skirt. Print of ivory background with purple lines and with a green, purple, and gold-yellow floral shapes. Closes on left side; first editions closed with inset white zipper, and later sets with Velcro.
Bloomers
White cotton bloomer-style underpants. Elastic gathering around legs.
Kit's underpants are similar to Samantha and Molly's styles but do not have the ruffle and have the leg elastic instead fully encased.
Sandals
Ivory colored canvas t-strap sandals. Silver metal buckles. First editions had functional buckles with holes in strap; later editions had velcro closure.
Barrette
Jade green plastic barrette with two open diamond shapes. This is similar to era-appropriate Art Deco pieces.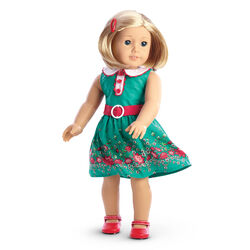 The BeForever Outfit for Kit was initially available alone for $36; it is currently only available to purchase with dolls.
Dress
Teal sleeveless knee-length dress. White Peter Pan collar. Three red floral buttons. Attached red waistband with a white round floral plastic buckle. Red floral print at lower hem. Velcros up the back.
Barrette
Red plastic hair barrette; black plastic clasp.
Bloomers
White cotton bloomers with elastic around the legs and waist. They are exactly like the Classic-style bloomers.
Shoes
Red Mary Jane shoes. White top stitching.
Meet Accessories
First Edition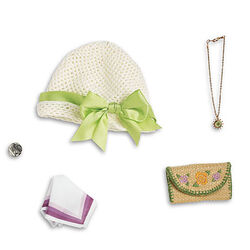 Hat
White crocheted cloche hat. Green band around brim with bow on right side.
Purse
Woven clutch purse with a loop and button fastener. Embroidered flowers (two purple, one yellow) on the front and sewn together with decorative green thread which is also around the flap of the purse.
Nickel
Necklace
Handkerchief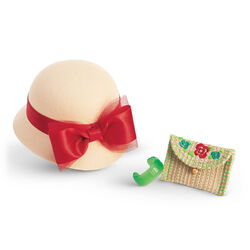 Bracelet
Hat
Purse
The matching children's outfit was available; it had two releases, one in 2000 and then in 2008 for the movie. The 2008 release came with a sleeveless sweater instead of the one matching that of the doll.
Sweater Set: $45
Skirt: $32
Hat: $14. The hat was not originally sold with the outfit.
Compass Necklace: $18. 16" long chain. This was phased out around 2004.
A children's outfit inspired by Kit's BeForever Meet Outfit was available:
Ruby Pom-Pom Top: $32
Garden Blooms Skirt: $42
Red Ribbon Hat: $22
Kit's mini doll was released when she debuted. The doll's body, meet, and book changed in 2014 with the start of BeForever.
Trivia
Kit was the first character released after Mattel had taken over American Girl; while early dolls have Pleasant Company stamped head molds, these are a carry over and remained until the molds were adjusted.
Kit is the only Historical Character whose meet outfit originally contained no Velcro closures.
When BeForever was launched Kit was erroneously shown with Full Speed Ahead: My Journey with Kit instead of Read All About It!.[1]

A draft sketch of the prototype Kit outfit showed items similar to the classic meet outfit. The sweater set was white; the skirt was blue; the hat more resembled a straw-style cloche.[2] Caitlin Waite, the illustration model who posed for the Kit illustrations, explained in a post on the /r/americangirl sub-Reddit that the change to a knit-style cloche was due to a last-minute decision done by American Girl when the initial batch of straw hats were found to fall apart rather easily. This resulted in a last-minute change in style and a call-back for Waite to fly back to Middleton for a re-shoot with the adjusted meet outfit design.[3]
References