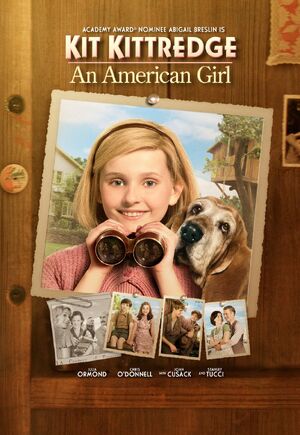 Kit Kittredge: An American Girl (originally called Kit Kittredge: An American Girl Mystery) is an American Girl Movie based on the character Kit Kittredge and her stories. It is the first and currently only American Girl movie that was released theatrically.
Cast
Abigail Breslin as Margaret Mildred 'Kit' Kittredge
Julia Ormond as Margaret Kittredge
Chris O'Donnell as Jack Kittredge
Jane Krakowski as Miss May Dooley
Wallace Shawn as Mr. Gibson
Max Thieriot as Will Shepherd
Willow Smith as Countee Garby
Glenne Headly as Louise Howard
Zach Mills as Stirling Howard IV
Kenneth Welsh as Uncle Hendrick
Madison Davenport as Ruthie Smithens
Joan Cusack as Miss Lucinda Bond
Dylan Smith as Frederich
Stanley Tucci as Jefferson Jasper Berk
Douglas Nyback as William 'Billy' Peabody
Dylan Roberts as Reporter
Martin Doyle as Teacher
Colin Mochrie as Mr. Pennington
Martin Roach as Hobo Doctor
Austin Macdonald as Roger
Brieanne Jansen as Frances Stone
Erin Hilgartner as Florence Stone
Peter MacNeill as Sheriff
Erin McMurtry as Garden Club Lady #1
Joanna Swan as Garden Club Lady #2
Eddie Max Huband as Blonde Bully
Frank McAnulty as Wallet Man
Anna Louise Richardson as Soup Kitchen Woman
David Talbot as Neighbor
Darryn Lucio as Deputy
John Healy as Mr. Stone
Colette Kendall as Mrs. Stone
Quincy Bullen as Newsboy
Elisabeth Perez as Classmate #1
Jordan Rackley as Classmate #2
Eddie Graff as Sax-Playing Hobo
Crew
Plot
Unlike the other movies, the plot of Kit's movie was written as a whole-new plot, with only a few elements coming from Kit's Central Series such as characters and scenarios.
The movie starts with Kit finishing her article and getting to the Cincinnati Register. Her brother Charlie got her an appointment at the Cincinnati Register where she meets Bill Peabody. She gives her article to him and goes home with Ruthie Smithens and Frances Stone. They run into Florence Stone who wants to be sworn into the Treehouse Club. On the way to the treehouse they meet Will and Countee. Will tells them that they will work for food. Then Kit introduces Will and Countee to her mother, who gives them food in advance. While Frances is being sworn into the Treehouse Club they hear Betty Lou Stone crying. When they look out the window they see a sign that says "Foreclousre by order of the Liberal Savings Bank" (Which is Ruthie's father's bank). Before Florence can put her picture on the Member-o-belia Frances takes her to their parents. Kit then writes an article about the Stones losing their home and gives it to her father. The next day Roger calls Frances a "good for nothing deadbeat egg-seller" their teacher gives them a last school assignment, going to a soup kitchen to help the needy. Roger makes a smart remark about the soup kitchens that his father told him. Their teacher then tells them that anyone who doesn't want to help out can write a 1,500 word essay about the history of volunteerisim. While in town after school Kit finds Grace, a dog left out on the streets because her owner couldn't feed her anymore. Kit convinces her mother to let her keep Grace. Just then a hobo steals a man's wallet. That night Uncle Hendrick comes over for dinner and meets Grace. At the soup kitchen Kit sees her father and runs home. The next day Jack Kittredge tells his daughter that the bank took the car dealership and their car. At school Kit is teased because her father was at the soup kitchen. Stirling and Kit put some feathers on a chair and put some glue on them so they stick to Roger's pants. When she comes home she learns that her stuff is now in the attic because they're taking in boarders and her father is going to find work in Chicago. This angers Kit because her dad said they were going to be okay and they weren't okay if they weren't together. Before Kit goes to bed her dad tells her not to let it beat her and promises that he'll write to her once a week.
Movie/Book Differences
Stirling's appearance is changed for the movie; in the books, he was blond, but the movie gives him brown hair.
Will is the main focus of the story, and he is given a sidekick with whom he travels.
Kit's father leaves town to look for work early in the story.
Charlie and Aunt Millie weren't included as characters, although both of them were mentioned in passing.
Kit's mother carried over some of Aunt Millie's roles from the book in the film - where as Millie did the feedsack dress in Happy Birthday, Kit!, it was Mrs. Kittredge who sewed it for her daughter. The same went when she and Kit decided to start selling eggs, unlike in the book when she initially disapproved Aunt Millie's idea of a chicken farm.
Theatrical Release
The movie was officially released in theatres nationwide on July 2, 2008.
DVD Release
The movie was released on DVD and Blu-ray on October 28, 2008.
A deluxe DVD edition of the movie was released on September 6, 2011, to celebrate American Girl's 25th anniversary. Retail cost was $14.95. American Girl retired it in 2020.
DVD Differences
The original DVD edition presented the movie in both fullscreen and widescreen format and contained the following extras:
American Girl Movie Trailer Gallery
DVD-ROM PC Enhanced Features
English and Spanish subtitles
The deluxe DVD edition presented the movie in widescreen format and contained the following extras:
Making-of featurette
Becoming an American Girl: Casting
All About Kit, an American Girl
English subtitles
Items Associated with the Movie
These are some of the items sold specifically in the Kit Movie Shop on the American Girl website.
Gallery
Links
Community content is available under
CC-BY-SA
unless otherwise noted.