Jurassic World: Dominion Dominates Fandom Wikis - The Loop
Play Sound

Kit Kittredge is the seventh Historical Character, representing the Great Depression era. Kit was released in 2000 and was part of the BeForever collection.
Personality and Facts
Kit was named after her mother and Aunt Millie; however, she prefers to go by her nickname. Kit is both derived from her last name and the Great War[3] era song "Pack Up Your Troubles in Your Old Kit-Bag". She'd beg her father to "sing the kit song!" and soon after everyone began to call her Kit and the name stuck. Charlie calls her "Squirt."
Kit thinks herself as not being "flouncy." She is very much a tomboy who does not like pink or ruffles, and she cares little for baking, dusting, dresses, or dance class, even though she has shown an affinity for square dancing. She enjoys baseball, and her favorite player is Ernie Lombardi, the catcher for the Cincinnati Reds. Kit likes when boys are around because she believes they are always up to something. She is interested in everything and fancies herself a reporter and factual writer. Her favorite place is the newsroom of the Cincinnati Register, where she often is sent to deliver Uncle Hendrick's letters to the editor. She wins an award for her writing in Kit's Railway Adventure, and has also has a letter to the editor published in the newspaper. She loves to read, and is often reading The Adventures of Robin Hood, a book Charlie gave her.
Kit doesn't always like change, even though sometimes she wishes for them to happen. She has a fascination with the spunky, independent pilot Amelia Earhart. She has strong pride and dislikes feeling dependent on charity from others (or being a moocher) as she has called it, but learns to swallow it and tackle her problems with thrift and cleverness. She loves country life and the great outdoors. Kit is embarrassed easily, especially when the hardships of her life are revealed to others. Kit can be easily irritated and peevish.
Kit loves adventures. She often feels stuck with endless chores since her home became a boarding house, and she doesn't enjoy doing them (leading her to do a shoddy or slapdash job at first). While initially she dislikes having boarders and wishes her father would get a job so they could be evicted, she comes around to liking them and the Howards as well.
Kit is funny and charming, often winning the love and support of others. She doesn't like to see people suffer, and usually wants to bring attention to causes she believes in. Kit is practical and describes herself as spunky and straightforward. She often doesn't hold her tongue and ends up saying mean things without intending to. Kit very seldom cried before the Depression began to affect her life. Kit loves her father and feels he's the best man in the world, with or without a job.
American Girl characterizes her as resourceful and clever, having a can-do attitude and someone who loves to put her creativity to work to brighten someone else's day. She is also characterized as being inquisitive on her Meet video on YouTube,[4] and the catalogue page on the American Girl Publishing site.[5] The American Girl website also describes her as a bright light in the dark days of the Great Depression.
Family and Friends
Family
Friends and Other Minor Characters
Books
Other Media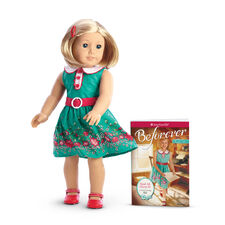 Collection
Trivia
References
See also