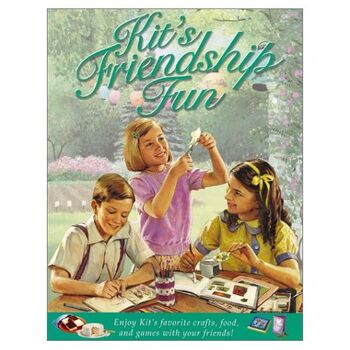 Kit's Friendship Fun
was a
craft and cook book
that focused on
Kit Kittredge
.
Book Contents
Tips and Facts
General Tips
Cooking Tips
Crafting Tips
Kit's Life and Times
Boarding House Breakfast
Oatmeal with Peaches
Ambrosia
Goldenrod Eggs
Waffles
Banana Fritters
Mosaic Tile Trivet
Sew a Patch
In the Backyard
Sun Print Greeting Card
Scrapbook
Clutch Purse
Fruity Freezer Jam
Club Sandwiches
Apple Kuchen
Iced Fruit Tea
Backyard Games: Roll Ball; Barnyard Confusion; Tag and Sing; I Say Stoop
Radio Night
Create a Radio Show
Cincinnati Chili
Bread Pudding
Baseball Pennant
Yo-Yo
Jigsaw Puzzle
Marble Maze
Up in the Attic
Oatmeal Raisin Cookies
Checkerboard Sandwiches
Vanilla Milk Shake
Scottie Pillow
Lamp Shade
Tommy-Walkers
Paper Box
Desk Blotter
Pencil Holder
Antics in the Attic: Button Race; Do This, Do That; Alphabet Traveling; Japanese Fan Race
Flour-Sack Napkin
Glazed Carrots
Baked Macaroni and Cheese
Roast Beef Hash
Banana Cake
Checkerboard
Want to Know More?
Read Books set in Kit's Time
Listen to Hit Songs of the 1930s
Watch Movies set in Kit's Time
Visit Museums and Web Sites about the Depression Era
Trivia
See Also
Community content is available under
CC-BY-SA
unless otherwise noted.