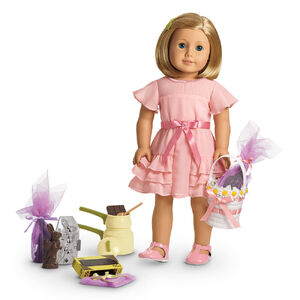 Kit's Candy-Making Set was a limited edition outfit introduced to Kit's Collection in 2014 and retired in 2015. Retail cost was $64.
Dress
Shoes
Pink faux patent leather sandals with center strap extending from toes and ankle strap.
Double Boiler
Ivory plastic double boiler. Bottom section is larger and has a plastic green handle. On a real boiler, this is where water would be heated up. The top section is also ivory plastic with a green handle, and it can fit a chocolate square for "heating." Lid matches the rest of the set and has a green handle.
Chocolate Box
Yellow, gold, and black paper box for holding baking chocolates. Title says "Chocolate for Molding." The box also notes that it contains 1 lb. of chocolate and it costs 5 cents. Holds four pieces of plastic baking chocolate.
Baking Chocolate
Four pieces of plastic baking chocolate for melting and molding. Each piece has nine squares with swirl designs on them. The chocolate all fits in the box and a piece can fit in the double boiler.
Spoon
Brown plastic spoon for stirring the chocolate.
Chocolate Bunnies
Three brown plastic faux chocolate bunnies with molded features. They have a molded basket on their backs with eggs.
Molding Tray
Silver plastic molding tray. This is a two-sided mold that fits together. It can hold a chocolate bunny.
Netting Sheets
Three large lilac netting sheets for wrapping chocolates.
Satin Ribbons
Three satin ribbons for tying netting sheets with chocolates. Ribbons come in purple, pink, and yellow.
Basket
White flexible plastic basket. The middle of the basket has a pink ribbon woven through it. The top rim of the basket has another woven pink ribbon that ends with a bow in the center. The top edge of the basket has faux plastic daisies affixed both inside and outside. White plastic handle. Basket can hold chocolate bunnies.
Trivia
The outfit was rereleased in 2015 as Kit's Springtime Outfit for $28 and the accessories as Kit's Homemade Sweets for $42.