The
Kirsten Larson
doll was released in
1986
, along with
Samantha Parkington
and
Molly McIntire
. They were American Girl's first three
Historical Characters
. Kirsten was officially archived in January
2010
.
Kirsten Doll
Skin: Light/pale
Hair: Blonde, bangs, straight.
Kirsten's hair initially comes styled in two looped-up braids. A tutorial on restyling the hair can be found at Bean Bunny.
Meet Outfit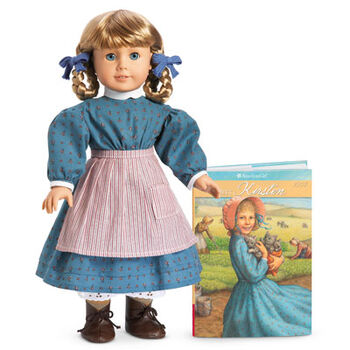 Kirsten's meet outfit is symbolic of the start of her new life on the American prairie in the 1850s. Though Kirsten spends much of Meet Kirsten wearing her traditional Swedish clothes, she receives this outfit as a hand-me-down from her elder cousin Lisbeth Larson.
Dress
Light blue day dress with a red flower print. Uses common style designs from the 1850s such as dropped sleeves, bodice gathered at the waist, and growth stripes. White collar and cuffs. As with many older items, the pattern of the print has varied slightly since Kirsten was released; it used to be somewhat random, but now the flowers are arranged in rows and lines. Velcro at back and wrists.
Apron
White with Red stripes; ties around the waist. Pocket on the left side.
Pantalettes
White pantalettes trimmed with lace.
Stockings
Thick brown and yellow striped socks. Later versions are thin yellow and greyish striped socks.
Boots
Brown lace-up boots with a soft sole.
Hair Ribbons
Two woven blue hair ribbons.
Meet Accessories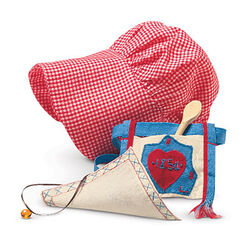 Bonnet
A red-checked sunbonnet
Spoon Bag
A spoon bag to carry her eating utensils. Has 1854 and K. L. embroidered on front.
Spoon
A wooden spoon. Two versions: First version had rounded knob at end of handle, second version has straight handle.
Amber Heart Necklace
An amber-colored heart, a keepsake from her grandmother
Kerchief
Cream handkerchief with red-and-blue embroidered edges.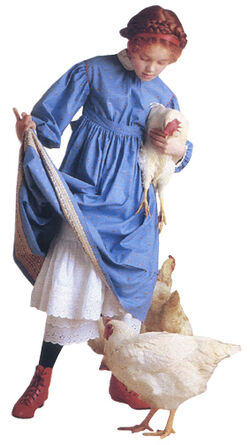 The matching outfit was available for children with various components:
New Country Dress: $75 (later increased to $78)
Amber Heart Necklace: $25 (later increased to $28)
Pantalettes: $18
Petticoat: $20
Prairie Boots, available in black or red: $55 (later increased to $68)
These were all phased out around 2000.
White bodied Kirstens have a white muslin cloth body; both Mattel and Pre-Mattel Kirstens have matching cloth bodies.
White bodied Kirstens have coarser, thicker hair that is a lighter shade. Pre-Mattel and Mattel Kirstens have darker blond hair.
The clipped hairs are more sparse in Mattel Kirstens; however, White-bodies Kirstens have less long hairs in the back.
Mattel and Pre-Mattel dolls have lighter blue eyes.
Pre-Mattel and White Body Kirstens have soft light brown lashes. They are longer in White Body Kirstens.
Community content is available under
CC-BY-SA
unless otherwise noted.