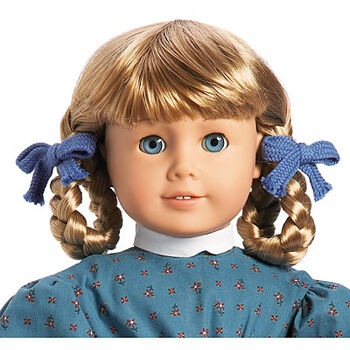 The Kirsten Larson doll was released in 1986, along with Samantha Parkington and Molly McIntire. They were American Girl's first three Historical Characters. Kirsten was officially archived in January 2010, though a Special Edition version was released for the 35th anniversary in 2021. Her mini doll remains available.
Kirsten Doll
Skin: Light/pale
Hair: Blonde, bangs, straight.
Kirsten's hair initially comes styled in two looped-up braids. A tutorial on restyling the hair can be found at Bean Bunny.
Meet Outfit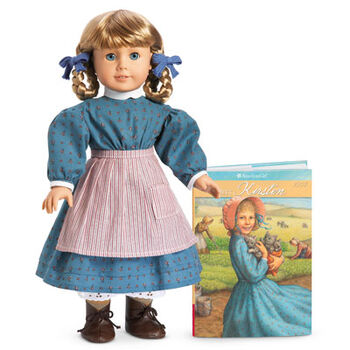 Kirsten's meet outfit is of the style silhouette of the mid 19th century and of practical design for farm wear rather than swifter moving city fashions, often of printed calico cloth with simple trims. It is symbolic of the start of her new life on the American farmland. Kirsten spends much of Meet Kirsten wearing more traditional Swedish clothes and she receives the dress as a "new" outfit to change into at arrival; it is a dress that her older cousin Lisbeth has outgrown.
Dress
Light blue mid-century prairie-style calico print day dress; long sleeved puffed bodice and skirt gathered to waistband. Print is medium cornflower blue background with red flowers with yellow accents and dark green stems. White high collar. Dropped sleeve shoulders. Cuffs are both of print and white trim. Bottom has a tucked up fold to simulate the growth tuck dresses of that era had to allow dresses to lengthen out as children grew. Velcro closure at cuffs and center back.
The pattern of the print has varied slightly over the years; older versions have a more random scattering of the flowers while newer version have them more closely lined up in noticeable rows and lines.
Apron
Striped cotton textured waist-tie apron. Pattern of cream with red stripes that alternate between grouped dashed lines and solid lines. Square pocket on the left side.
Pantalettes
White cotton pantalettes. Elastic gathered waist. Cuffs are trimmed with white eyelet lace with groupings to appear as small flowers. and dots.
Stockings
Thick striped knit knee high stockings. Horizontal thin brown and dark yellow stripes.
Later versions are of thinner knit with thicker striping of more grey tones and have added elastic at the tops to help hold stockings up on ankles.
Boots
Brown boots. Soft sided with a soft sole. Two holes at front with brown knotted laces.
Hair Ribbons
Two woven-cloth blue hair ribbons.
Meet Accessories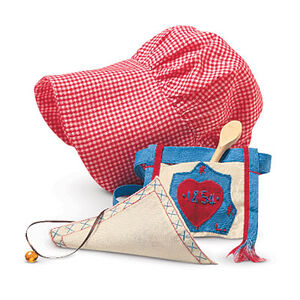 Bonnet
Red gingham print sunbonnet. Front bill with slight interface stiffening and gathered back with slight overhang and matching ribbon ties.
Spoon Bag
Cloth waist spoon bag. Muslim center pocket-bag with red and blue bias cord sewn on sides to form loops at top for blue waist tie to be corded through and fridge at bottom. Front has applique design of blue geometric shape and red heart over. Decorative embroidery has 1864 and two dots in blue on heart and blue has three abstract flowers around heart and K. L. on lower corners in red.
This is based on the Swedish kjolsäck or loose pocket.
Spoon
Wooden spoon.
The first version has a rounded knob at end of handle; later versions have a straight handle.
Necklace
Amber-colored heart pendant on a thin brown ribbon cord. Gold latch into loop closure. The books state this is a parting gift from Kirsten's grandmother, Mormor.
Kerchief
Cream handkerchief. Embroidered with red lines and Xs in blue thread.
35th Anniversary Edition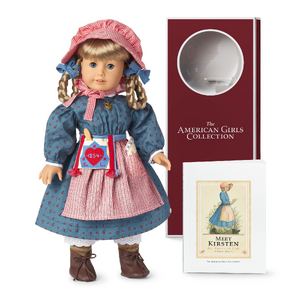 For American Girl's 35th Anniversary, Kirsten Larson was rereleased as a limited edition bundle. The bundle includes the doll, meet accessories, the first edition parchment style of Meet Kirsten, and an older-style box (modified with visibility window) for a total cost of $150. This bundle sold out in August 2021.
Unlike standard dolls sold at this time, Kirsten has neck strings. The doll has a dress of a slightly darker shade than the original dress and slightly thinner fabric; the apron is of a slightly lighter weave; the second version of the stockings are being used; the pantalette trim is different; the boots are slightly lighter in tone. The doll also has a darker blue eye color similar to other dolls instead of the original light blue.
One of a Kind Edition
A one-of a kind Kirsten designed by Carly Cushie, was auctioned from September 23 to 26th, with all proceeds donated to Girls Who Code. The auction initial starting price was $300 and final auction price was $2,400.00.
The doll was dressed in a blue gingham flared dress and straw fedora hat, her amber necklace, and the shoes from the World Traveler in Ireland outfit.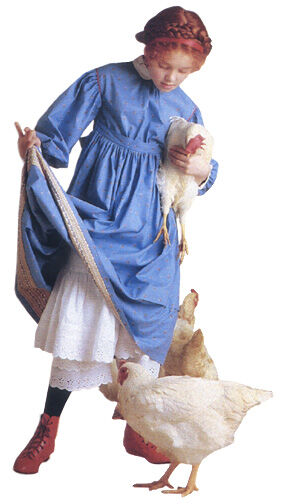 The matching outfit was available for children with various components:
New Country Dress: $75 (later increased to $78)
Amber Heart Necklace: $25 (later increased to $28)
Pantalettes: $18
Petticoat: $20
Prairie Boots, available in black or red: $55 (later increased to $68)
These were all phased out around 2000.
A Kirsten mini doll has been available since the debut of mini dolls in 1995. There are three versions with her meet outfit: the Pleasant Company mini doll, the Mattel mini doll, and the 2016 mini doll. She is the only American Girl character whose mini doll still has her classic meet outfit. Although her outfit was not changed with the start of BeForever, the mini doll's body was changed from a cloth body to vinyl. Her mini was briefly unavailable from 2014 to 2016, when it was re-released. The doll remains available.
White bodied Kirstens have a white muslin cloth body; both Mattel and Pre-Mattel Kirstens have matching cloth bodies.
White bodied Kirstens have coarser, thicker hair that is a lighter shade. Pre-Mattel and Mattel Kirstens have darker blond hair.
The clipped hairs are more sparse in Mattel Kirstens; however, White-bodies Kirstens have less long hairs in the back.
Mattel and Pre-Mattel dolls have lighter blue eyes.
Pre-Mattel and White Body Kirstens have softer, light brown to brown lashes. They are longer in White Body Kirstens.
The Mattel Kirstens have slightly thinner bangs.
Trivia
Images released in 2021 for the 35th anniversary revealed that Kirsten's meet outfit was not changed much from the initial overall design.