"Kirsten" redirects here. For the doll, see Kirsten Larson (doll).

Kirsten Larson is one of the first three Historical Characters of the American Girl Dolls, representing the Pioneer Era. Kirsten was released in 1986 along with Samantha Parkington and Molly McIntire.
American Girl started sending out letters in fall 2009 stating that they would archive Kirsten Larson's entire collection; the doll and her collection would no longer be available for purchase online, at stores, or through catalogs with the exception of books and the mini doll. Official archiving was on January 1, 2010. With the 2014 launch of BeForever Kirsten's mini doll was archived.[1] Her books are still available for purchase on a limited basis.
Personality and Character
Kirsten is a brave, hardworking character, given her new life in America (Minnesota) and the work needed on the frontier. Initially, Kirsten does not feel like she will ever belong in America but after her journey and some time on the farm she starts to feel like an American. She is quite sensitive towards animals and children and makes friends easily. She is occasionally prone to daydreaming, and if something is not easy for her she struggles with it. She is easily frightened by unfamiliar things and can be shy. She hates being trapped inside small spaces and is a very active child. When Kirsten wants something, she becomes a bad listener and tends to pester others until she has achieved what she wants. This stubborn streak sometimes gets her in trouble. Kirsten is helpful, and responsible, and has often taken on more responsibility without complaint. She is also caring and thoughtful. Many scenes show her thinking about her family and how to make them happy. Kirsten loves to explore, and she especially loves to tell and keep secrets. Kirsten was born in Ryd, Sweden, and her favorite color is pink.[2]
Kirsten doesn't really like going to school, and initially finds it hard to get along in school.
Kirsten likes to try new things, and she especially took interest in sewing, more of an American custom, which Swedish women weren't used to. Kirsten has also shown a knack for making money, as she knew the value of the honey tree she found in Kirsten Saves the Day.
Kirsten admires her mother, and wants to be as strong and brave as her mother when she is older.
American Girl characterizes her as "brave" and "steadfast." American Girl featured videos characterizes her as having a "Pioneering Spirit".
Family and Friends
Family
Friends and Other Minor Characters
Books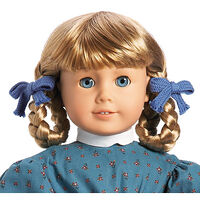 Main article: Kirsten Larson (doll)
Skin: Light
Hair: Blonde with bangs
Eyes: Light blue
Collection
See: Kirsten's Collection
Trivia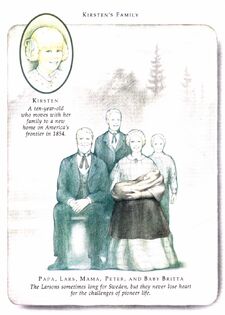 Kirsten is portrayed with bangs and has been since release; however, at the time, bangs were not fashionable for most girls and other girls shown in her series do not have bangs. The theory is that rather than change the wig dramatically for newly designed dolls, she was given the same type of hair style as Samantha Parkington and Molly McIntire.
According to Kit's Money Matters on the Games on the American Girl website, Kit Kittredge has a neighbor named Mrs. Larson. This is most likely a coincidence and has nothing to do with Kirsten, but it may also be a reference with no bearing on canon.
Kirsten's Central Series originally illustrated her family and friends in daguerreotype group portraits, in contrast to individual portraits for major characters seen in Samantha and Molly's books and as later Historical Characters were released. The daguerreotype portraits were kept during the first revision of the Central Series. Kirsten's family and friends were later illustrated to have individual portraits when the Central Series underwent their third revision, prior to the launch of BeForever.
See also
References
↑ An updated doll was re-released in 2016.