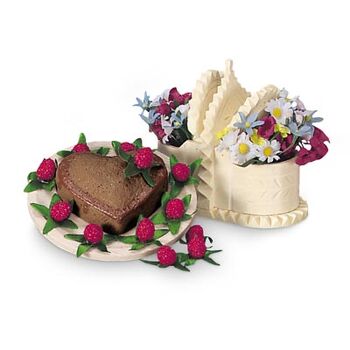 Kirsten's Party Treats was introduced to Kirsten's Collection in 1987, modified in 1998, and retired in 2007. It is associated with the book Happy Birthday, Kirsten!. First release retail cost was $26, and it decreased to $25 with the removal of the quilt kit. It later increased to $29.
Salt Box
Flowers
Bouquet of various flowers.
Strawberries
Twelve small, red strawberries with green leaves.
Cake
Heart-shaped cake.
Platter
Unstained wooden platter.
Quilt Kit
Trivia