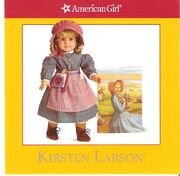 This is a list of all the items that were available for
Kirsten Larson
in her
Historical Collection
before her archival in January 2010. Any items that have been modified or rereleased will be discussed on their article pages.
As of January 2010 the entire collection is archived with the exception of the books and mini doll.
Doll and Meet Accessories
Kirsten could come with a paperback or hardcover copy of Meet Kirsten, or a hardcover or paperback set of all six books.
Also called Pleasant Dreams, Kirsten! and Sweet Dreams, Kirsten!
Extra Items and Outfits
Extra Outfits
Extra Items
Crafts
Books