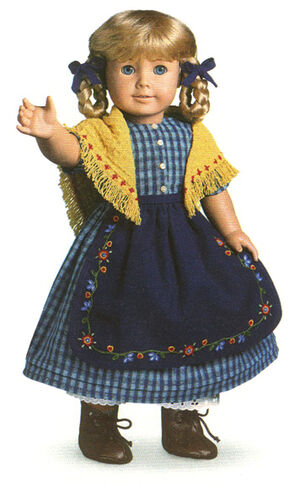 The Checked Dress and Apron (also known as Kirsten's On The Trail Outfit) was introduced to Kirsten's Collection in 1999 and retired in 2002. The outfit is associated with the short story Kirsten on the Trail. Retail cost was $22.
Dress
Dark blue gingham short sleeved day dress. Bodice and skirt gathered to waistband. Bodice has false tucked placket with four two-hole buttons down front; shoulder seams pulled to back. Dropped sleeves; sleeves are elbow length with puffed tops and side tucks. Skirt has growth tuck. Velcros at center back.
Apron
Dark blue wool embroidered apron. Curved bottom edge. Embroidery of red/yellow/blue/white flowers with blue/white leaves, smaller red/yellow flowers, and green vines. Waist tie.
Shawl
Yellow woven triangular shawl. Top edge is hemmed under with other two edges left raw to fringe. Red cross embroidery on two bottom edges.
Ribbons
Two navy woven blue hair ribbons. These are identical to those in the Ribbons for Kirsten set and the School Dress with Shawl.
Trivia
The outfit could also be purchased with the short story book for $25.
See Also