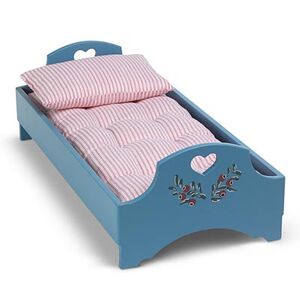 Kirsten's Bed was introduced to Kirsten's Collection in 1987 and retired in 2010 following Kirsten's archival. Retail cost was $50 and was later increased to $58.
Bed
Blue wooden trundle-style bed. Heart keyholes in center of both head and foot of bed. Painted flowers below heart keyholes.
Mattress
Red and white striped mattress; knotted.
Pillow
Red and white striped rectangular pillow.