"Kira" redirects here. For the doll, see Kira Bailey (doll).
Kira Bailey is the nineteenth Girl of the Year released by American Girl. She was released in 2021.
Character
Family and Friends
Family
Friends
Books
See: Kira Bailey (doll)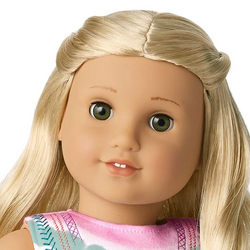 Skin: Light
Hair: Blonde
Eyes: Green
Collection
See: Kira's Collection
See Also
Minor Characters in Kira's Stories
Trivia
Kira is the second Girl of the Year whose full stories primarily take place outside of the United States, the first one being Jess McConnell. Grace Thomas goes to France for one book, but the rest of her books are set in the US; Lea Clark also goes to Brazil, but her last book is in the US.
References