"Kira" redirects here. For the doll, see Kira Bailey (doll).
Kira Bailey is the nineteenth Girl of the Year. She was released in 2021.
Personality and Facts
Kira is a ten-year-old girl living in Michigan with her mother, a middle school teacher; the two of them foster kittens for a local shelter. Her father died three years ago from an unspecified accident. Her paternal family owns the Bailey Wildlife Sanctuary in Australia; the sanctuary has been with the family since the 1800s. Kira dreams of living there and always helping with the animals, but her mother refuses to let her stay at the sanctuary full-time as she would prefer Kira attend public school than online school. Despite the usual distance between them, Kira is very close with her great aunts, Mamie and Lynette, and holds a great deal of respect for them as the heads of the sanctuary. She is very loyal to her family's home and will do anything she can to help out and protect it.
Kira loves animals of all kinds and wants to work with them as a career, though she isn't sure if she wants to be a veterinarian or scientist. She is very skilled with animals and is eager to learn as much about them as she can. The memories of waiting for her father in the emergency room have given Kira a fear of hospitals. She is also very anxious and stubborn, and her former friend Laila blames Kira's inability to be flexible as the reason their friendship eroded. When Kira gets nervous, she will start to ramble about information she knows, regardless of whether or not whoever she's talking to wants her to stop. She is very scared of the unknown, though her new friend Alexis later gets her to open up and become braver.
She is very focused on the idea of being prepared for anything, and doesn't like to be spontaneous or to do anything without a plan While Kira is good at planning ahead, she is not good at thinking in the moment; she often makes simple mistakes without thinking such as leaving the wombat pen open because she was distracted or befriending a stray cat without realizing that it was a predator hunting in the sanctuary.
Her favorite color is yellow.
Family and Friends
Family
Ms. Bailey: Kira's mother.
Mr. Bailey: Kira's deceased father.
Mamie Bailey: Kira's paternal great-aunt.
Professor Lynette: Aunt Mamie's wife.
Friends
Alexis "Alex" Curry: Kira's best friend.
Mr. and Mrs. Curry: Alexis's parents.
Evie: a student at the sanctuary, there to study birds.
Shashi: a student at the sanctuary, there to study frogs.
Laila: Kira's former best friend.
Books
See: Kira Bailey (doll)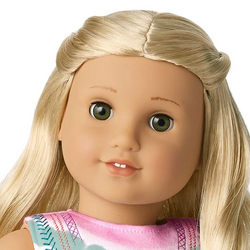 Skin: Light
Hair: Blonde
Eyes: Green
Collection
See: Kira's Collection
Trivia
Kira is the second Girl of the Year whose full stories primarily take place outside of the United States, the first one being Jess McConnell. Grace Thomas goes to France in her first book, but the rest of her books are set in the US; Lea Clark also goes to Brazil, but her last book is set in the US.
Kira's stories are the first--later followed by the World by Us line and Corinne Tan--to integrate the ongoing coronavirus pandemic into the stories.
References