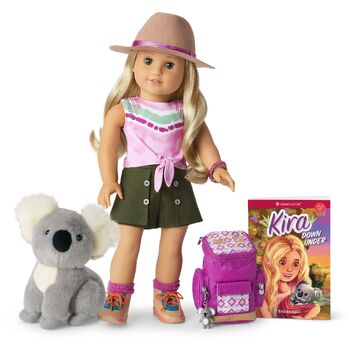 This is a list of all the items that are available for Kira Bailey. As Kira is a Girl of the Year, she and her items will be available on a limited basis from January 2021 until retiring.
Doll
Kira comes with a paperback copy of Kira Down Under.
Outfits
Accessories
Books
For Kids
Charitable Donation
American Girl offered the opportunity to donate to the Australian wildlife organization WIRES (Wildlife Information, Rescue and Education Service Inc.) This was listed on Kira's collection page with optional dollar amounts of $1, $5, and $10. American Girl is matching dollar amounts up to $25,000 throughout 2021.
Kira's Starter Collection
Kira did not have a starter collection upon her debut. Customers are offered purchase of the doll, meet book, and Kira's Accessories for a $5 discount on the accessories.
Kira's Ultimate Collection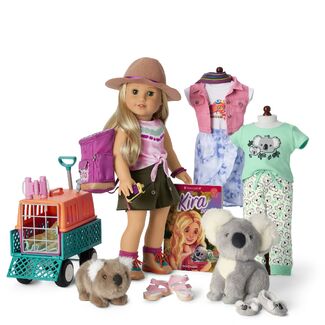 At release, Kira's Ultimate Collection was available. For $260, this collection included the doll, accessories, both books, Kira's Wildlife Rescue Set, Kira's Koala PJs, Kira's Casual Outfit, and Kira's Koala.
Kira Doll and Animal Exam Bundle
In April 2021 with the release of two more items, the Kira Doll and Animal Exam Bundle was made available. This bundle included the doll and book, Kira's Wildlife Care Outfit, Kira's Wallaby Care Set, and Kira's Animal Exam Table for $227.
Debut Giveaway Item
Kira's giveaway item was a brown sling bag.
References
Community content is available under
CC-BY-SA
unless otherwise noted.