m

 

(14 intermediate revisions by 5 users not shown)
Line 6:
Line 6:
 

Kendall is an elementary aged black girl with naturally curly black hair (frequently worn in two high ponytail puffs), dark skin, and brown eyes.

 

Kendall is an elementary aged black girl with naturally curly black hair (frequently worn in two high ponytail puffs), dark skin, and brown eyes.

 
 
−

She is the creative designer of the group, who enjoys various styles of design, art, crafts, and building things--she can make anything out of old junk and things lying around<ref>WellieWishers App.</ref>. Her outfit shows a creative side with a tie-front style multicolored striped shirt, a multicolored design skirt with tulle at the edge, and polka-dotted wellies. She also wears a cloth headband in her hair.

+

creative of enjoys various styles of design, , crafts, and anything out of old junk and things lying around<ref>WellieWishers App.</ref>.

 
+
 
+

Kendall's signature colors include yellow ochre and pink. Her outfit shows a creative side with a pink and yellow tie-front style shirt, a multicolored design skirt with tulle at the edge, and polka-dotted wellies. She also wears a cloth headband in her hair.

 
 
 

Kendall is allergic to nuts.<ref>''[[Ashlyn's Unsurprise Party]].''</ref>

 

Kendall is allergic to nuts.<ref>''[[Ashlyn's Unsurprise Party]].''</ref>

Line 12:
Line 14:
 

==Books==

 

==Books==

 
 
−

While Kendall is in all the books, she has yet to have an announced book focused on her.

+

While Kendall is in all the books, she .

 
 
 

==Other Media==

 

==Other Media==

Line 21:
Line 23:
 
 
 

==Trivia==

 

==Trivia==

 
+

* As revealed in Episode 4, her favorite animal is a dog.

 
 
 

==See Also==

 

==See Also==
---
Latest revision as of 01:33, 26 January 2018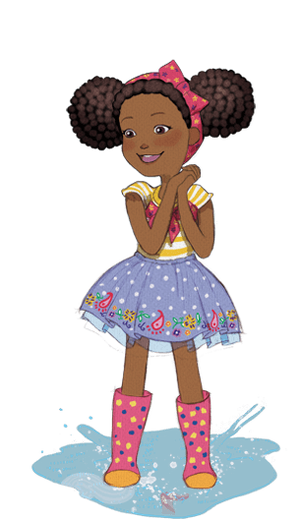 Kendall is one of the five main characters in the WellieWishers line.
Personality, Description, and Facts
Kendall is an elementary aged black girl with naturally curly black hair (frequently worn in two high ponytail puffs), dark skin, and brown eyes.
More than anything else, Kendall loves getting crafty and creative with all sorts of projects and ideas. She enjoys various styles of design, arts, crafts, and architecture. She also loves making anything out of old junk and things lying around[1].
Kendall's signature colors include yellow ochre and pink. Her outfit shows a creative side with a pink and yellow tie-front style shirt, a multicolored design skirt with tulle at the edge, and polka-dotted wellies. She also wears a cloth headband in her hair.
Kendall is allergic to nuts.[2]
Books
While Kendall is in all the books, she is the focus of The Rainstorm Brainstorm.
Other Media
Doll
See Kendall (doll)
Trivia
As revealed in Episode 4, her favorite animal is a dog.
See Also
References