Line 1:
Line 1:
 

[[File:KendallProfile.png|thumb|300px|Kendall.]]

 

[[File:KendallProfile.png|thumb|300px|Kendall.]]

−

'''Kendall''' is one of the five main characters in the [[Wellie Wishers]] line.

+

'''Kendall''' is one of the five main characters in the [[]] line.

 
 
 

==Personality, Description, and Facts==

 

==Personality, Description, and Facts==

Line 6:
Line 6:
 

Kendall is an elementary aged black girl with naturally curly black hair (frequently worn in two high ponytail puffs), dark skin, and brown eyes.

 

Kendall is an elementary aged black girl with naturally curly black hair (frequently worn in two high ponytail puffs), dark skin, and brown eyes.

 
 
−

She is the creative designer of the group, who enjoys various styles of design and building things. Her outfit shows a creative side with a tie-front style multicolored striped shirt, a multicolored design skirt with tulle at the edge, and polka-dotted wellies. She also wears a cloth headband in her hair.

+

She is the creative designer of the group, who enjoys various styles of design and building things. Her outfit shows a creative side with a tie-front style multicolored striped shirt, a multicolored design skirt with tulle at the edge, and polka-dotted wellies. She also wears a cloth headband in her hair.

 
 
 

==Books==

 

==Books==

Line 25:
Line 25:
 
 
 

{{stub}}

 

{{stub}}

−

[[Category:Wellie Wishers]]

+

[[Category:]]

−

[[Category:Wellie Wishers Characters]]

+

[[Category: Characters]]
---
Revision as of 04:20, 26 June 2016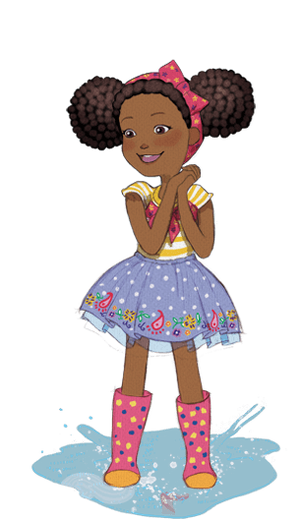 Kendall is one of the five main characters in the WellieWishers line.
Personality, Description, and Facts
Kendall is an elementary aged black girl with naturally curly black hair (frequently worn in two high ponytail puffs), dark skin, and brown eyes.
She is the creative designer of the group, who enjoys various styles of design, art, crafts, and building things. Her outfit shows a creative side with a tie-front style multicolored striped shirt, a multicolored design skirt with tulle at the edge, and polka-dotted wellies. She also wears a cloth headband in her hair.
Books
While Kendall is in all the books, she has yet to have an announced book focused on her.
Other Media
Doll
See Kendall (doll)
Trivia
See Also
References