This is a list of all the items that have been or are currently available for Kaya'aton'my in her Historical Collection. Items in italics have been retired. Any items that have been modified or rereleased will be discussed on their article pages. Since Kaya did not have a set pattern to her collection like the other characters (prior to BeForever) and few of her items were explicitly tied to her stories, her collection was originally sorted into item types for the purposes of this article.
BeForever and later items are listed at the top.
Doll and Meet Accessories
Kaya comes with a copy of Kaya: The Journey Begins.
Kaya originally came with a copy of Meet Kaya. During BeForever, Kaya came with a copy of The Journey Begins.
BeForever and Post-Beforever Outfits
BeForever and Post-BeForever Accessories
Inspired-By Clothing
Clothing
Accessories
Animals
Crafts
Kaya's Ultimate Collection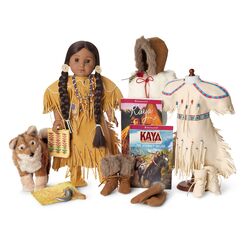 Kaya's Ultimate Collection consists of the Kaya doll and book, Kaya's accessories, her second book, her trading outfit, her winter accessories, and Tatlo for $242 ($10.99 less than purchasing components separately).
Books