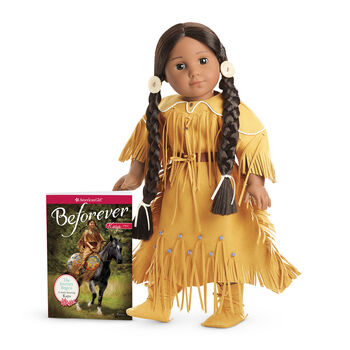 The Kaya'aton'my doll was released in 2002 and was not updated in any major way for the BeForever release.
Kaya Doll
Hair: Black, straight and long (to doll's knees when fully unbraided), center part, no bangs.
Kaya's hair comes in two braids.
Meet Outfit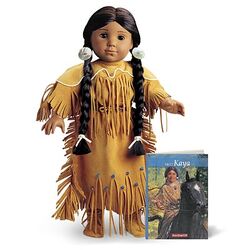 Kaya's meet outfit represents the traditional deerskin clothing worn by Nez Perce girls and women in the 1760s. Although the pieces are called "deerskin," "porcupine," etc. in the descriptions, they are not made from real animal products.
Dress
Deerskin dress trimmed with fringe and blue beads. White beads run across the front seam. There is a dark spot on the center front to simulate a deer's tail. Velcros up the back.
Belt
Brown leather belt. It is tied in front and velcros in the back.
Moccasins
Brown deerskin moccasins. Cords to wrapped around lower calf.
Hair Shells
Two round abalone shells on a light brown elastic band.
Hair Ties
Two short leather ties at the end of each braid.
Meet Accessories
First Version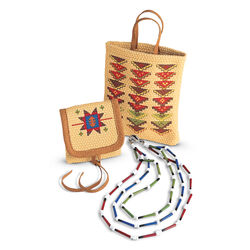 Porcupine quill necklace
Synthetic porcupine-quill necklace. The necklace has three chains connected at the back clasp: green, blue, and red. The ends are tipped black and there are white round seed bead spacers in groups of either two or three.
The clasp was later changed to a heart-loop clasp.
Belt Pouch
Rectangular hip pouch. Woven cloth. Flap and upper opening are trimmed in suede, small loop in flap. Decoration on flap of octagonal star with lines and four four-point flowers at corners. Closes with two suede cords attached to the back of the bag through flap loop. Back has two loops to attach to doll's belt.
Woven Bag
Woven rectangular cloth bag. Two suede handles. Front has design of repeating triangles with smaller designs inside and trim outside.
Second Version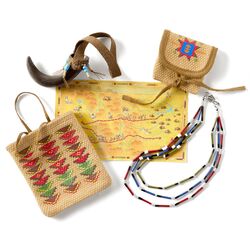 Kaya's second set of Meet Accessories in 2019 added the following items:
Horn Cup
Brown curved horn cup. Attached suede carrying strap with decorative blue and cream beads on fringe cords.
Map
Paper map of the Nimipuu/Nez pierce traditional travel areas. Images of native animals, settlements (shown with tipis), rivers, and red dashed-line trails, with people moving along trails in groups from west to east. Trails and settlements span the modern areas of eastern Oregon, upper Idaho, and Montana (eastern Washington and northern Wyoming are shown but have no settlements or paths). Map is bordered with dashed lines and squares simulating beadwork.
Back reads:
Kaya's family traveled often, to hunt buffalo and to visit and trade with other Nez Perce. But they didn't have maps--they didn't need them! Kaya found her way using landmarks, such as mountains, valleys, and rivers. In Kaya's time, the Nez Perce Indians traveled by horseback and used their horses to carry the things they neeed. Kaya rode her appaloosa mare, Steps High.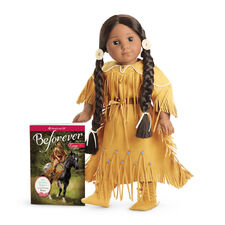 There were no initial updates for Kaya's outfit or accessories, but she now came with The Journey Begins.
With the launch of BeForever, an outfit inspired by Kaya's Meet Outfit was made available:
Fun Fringed Skirt: $48
Steps High Tank: $26
Knit Blanket Sweater: $68
Kaya's mini doll was released when she debuted. The doll's body and book changed in 2014 with the start of BeForever.
Note
With the exception of the shells used in Kaya's hair ties, all animal products are simulated.