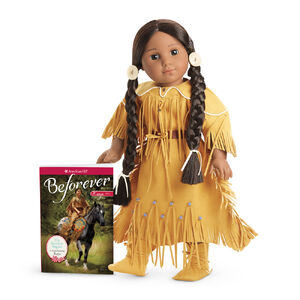 The Kaya'aton'my doll was released in 2002 and was not updated in any major way for the BeForever release.
Kaya Doll
Hair: Black, straight and long (to doll's knees when fully unbraided), center part, no bangs.
Kaya's hair comes in two braids.
Meet Outfit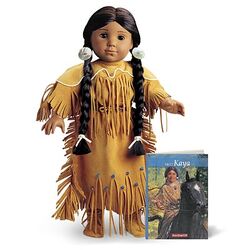 Kaya's meet outfit represents the clothing worn by Nez Perce tribes in the 1760s. Although the pieces are called "deerskin," "porcupine," etc. in the descriptions, they are not made from real animal products. She does not have any underclothes.
Dress
A "deerskin" dress trimmed with fringe and blue beads. White beads run across the front seam. There is a dark spot on the center front to simulate a deer's tail. Velcros up the back.
Belt
A brown belt that cinches around the waist. It is tied in front and velcros in the back.
Moccasins
Brown "deerskin" moccasins that are wrapped around her lower calf.
Hair Shells
The top of each of Kaya's braids is wrapped with a round abalone shell on a light brown elastic band.
Hair Ties
Two short "leather" ties are at the end of each braid.
Meet Accessories
First Version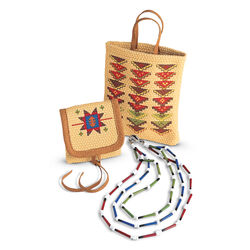 Porcupine quill necklace
The porcupine-quill necklace is made of three necklaces attached at a clasp; each necklace has white round beads and slender beads to simulate porcupine quills. The colors from the shortest strand to the longest are green, blue, and red.
Belt Pouch
Kaya's purse, a small bag that is attached to her belt with a woven design.
Woven Bag
A woven bag with simulated woven design; the design is stamped on.
Second Version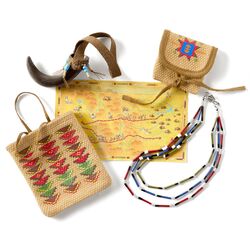 Kaya's second set of Meet Accessories added the following items:
Horn Cup
Illustration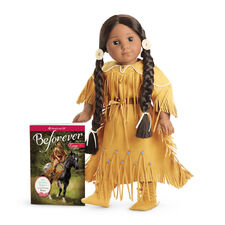 There were no updates for Kaya's outfit or accessories, but she came with The Journey Begins.
With the launch of BeForever, an outfit inspired by Kaya's Meet Outfit was made available:
Fun Fringed Skirt: $48
Steps High Tank: $26
Knit Blanket Sweater: $68
Note
With the exception of the shells used in Kaya's hair ties, all animal products are simulated.
Community content is available under
CC-BY-SA
unless otherwise noted.