"Kaya" redirects here. For the doll, see Kaya'aton'my (doll).

Kaya was the eighth Historical Character of the American Girls, representing early Native America. Kaya was released in 2002 and was part of the BeForever collection.
Personality and Facts
Kaya (pronounced KY-yah)[5] is a Native American girl of the Nimíipuu, or Nez Perce tribe. Her stories are set prior to permanent settlement of the area by white European-Americans. The stories are post-Western contact, as evidenced by the fact the tribe has horses and her grandmother has pock-marks from prior contact that has led to disease.
Kaya is a very active young girl, fitting with an outdoor lifestyle. She swims in the river every morning with the other girls. She cares greatly for animals, especially horses. She likes her grandmother's stories.
Kaya many times acts before she thinks, getting her into trouble many times through the series. In Meet Kaya, her rash actions get her in trouble, earning a switch from Whip Woman and the nickname "Magpie" which she tries desperately to get rid of. Later, her rash actions get her and Speaking Rain kidnapped by another tribe. Kaya is prone to boast or brag to seem important. She hopes to become a strong, courageous leader of her people.
Kaya tries to seem strong, even when she is feeling at her worst. Remarks made by the boys often hurt her feelings.
Kaya is described as ambitious and resourceful by American Girl.
Kaya was awarded with the name of her heroine, Swan Circling, and is going to use it when she is ready.[6]
Kaya deeply cares about her family and friends. She is best friends with her sister Speaking Rain and they share many secrets with each other. She is also friends with Two Hawks.
American Girl characterizes her as "adventurous" and "daring" with a generous spirit. American Girl featured video describes her as "True-Hearted'. American Girl e-cards describes her also as loyal and clever.
Family and Friends
Family
Friends and Other Characters
Books
See: List of Kaya's Books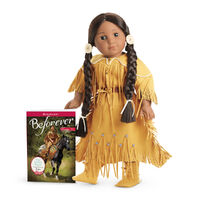 Main article: Kaya'aton'my (doll)
Collection
See: Kaya's Collection
Trivia
See also
References
Community content is available under
CC-BY-SA
unless otherwise noted.