"Kaya" redirects here. For the doll, see Kaya'aton'my (doll).

Kaya is the eighth Historical Character, representing early Native America. Kaya was released in 2002 and was part of the BeForever collection.
Personality and Facts
Kaya (pronounced KY-yah)[5] is a Native American girl of the Nimíipuu, or Nez Perce tribe. Her stories are set prior to permanent settlement of the area by white European-Americans. The stories are post-European contact, as evidenced by the fact the tribe caretakes for horses and her grandmother has pock-marks from prior contact that has led to disease spread.
Kaya is a very active young girl, fitting with an outdoor lifestyle. She swims in the river every morning with the other girls. She cares greatly for animals, especially horses. She likes her grandmother's stories.
Kaya many times acts before she thinks, getting her into trouble many times through the series. In Meet Kaya, her rash actions get her in trouble, earning a switch for all the children from Whip Woman and the disparaging nickname "Magpie" which she tries desperately to get rid of. Later, her rash actions get her and Speaking Rain kidnapped by another tribe. Kaya is prone to boast or brag to seem important. She hopes to become a strong, courageous leader of her people.
Kaya tries to seem strong, even when she is feeling at her worst. Remarks made by the boys often hurt her feelings.
Kaya was awarded with the name of her heroine, Swan Circling, and is going to use it when she is ready.[6]
Kaya deeply cares about her family and friends. She is best friends with her sister Speaking Rain and they share many secrets with each other. She is also friends with Two Hawks.
American Girl characterizes her as ambitious and resourceful, adventurous, and daring with a generous spirit; a featured video describes her as true-hearted, and American Girl e-cards describe her also as loyal and clever.
Family and Friends
Family
Friends and Other Characters
Books
See: List of Kaya's Books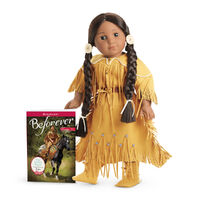 Main article: Kaya'aton'my (doll)
Collection
See: Kaya's Collection
Character Background
Advisory Board
Kaya had an eight-member advisory board. Members included:
Development
Kaya took five to six years to develop, placing the start of her development in 1996 or 1997.[7][8] At that time, most historical characters took three years to develop. American Girl representatives first met with Nez Perce tribal members before they agreed to work with the company. According to Ann McCormack, these initial conversations took place about five times over the course of a year and a half, and many Nez Perce were initially unfamiliar with the company. McCormack also met with the representatives, and she took their proposal to the tribe's executive council for approval.[9]
Janet Shaw met with the advisory board before she started to write Kaya's books. McCormack recalled that Shaw said she also read 96 books on the Nez Perce prior to their first meeting. Kaya's story developed out of stories the advisory board shared that were passed down to them or to friends in other tribes. Advisory board members reviewed manuscripts and provided feedback, such as telling Shaw that an early version of Kaya spoke too disrespectfully to her grandmother. Kaya's summoning whistle for Steps High was inspired by a whistle Rodney Cawston had used for a horse to whom he was close; he was able to call his horse to him even after the horse had been sold and they were in another part of the state. Kaya's hair color was also based on Cawston's hair; he cut a small lock of it for the company to use as a reference. The board helped developed Kaya's unique face mold, which has a broader face and shorter nose than previous molds. Kaya's unique mold also shows her smiling with her mouth closed; McCormack explained that being reserved is considered a sign of respect among the Nez Perce when you meet a new person.[9] Part of Kaya's research team also visited the Lolo Trail in the Rocky Mountains, which was a traditional travel route for the Nez Perce.[10][11][12]
Rosa Yearout requested that Kaya's story be set pre-European contact; the board wanted to show the Nez Perce culture flourishing at its height. In 2017, Dianne Mallickan reflected on this choice, saying, "I feel like the storyline was very, very important - and it's actually part of our healing."[8] The board also requested that her books' history sections include information on contemporary Nez Perce children and culture so readers would know the tribe continued to exist and thrive. [7]
Trivia
See also
References