"Kanani" redirects here. For the doll, see Kanani Akina (doll).
Kanani Akina is the ninth Girl of the Year released. She was released in 2011.
Personality and Facts
Kanani is a ten-year-old girl living on Kaua'i, the geologically oldest island of Hawaii. Her father, Mr. Akina, is of Japanese-Hawaiian descent while her mother, Mrs. Akina, is of French-German descent, making her multiracial. She helps her family run a popular shave ice shop and is passionate about helping people by sharing the Aloha spirit and protecting Hawaiian wildlife, such as the Hawaiian monk seal. She has a rooster named Jinx, a dog named Barksee, and a goat named Mochi.
Kanani enjoys swimming- her parents call her a mermaid- but she dislikes surfing. She knows her island very well and is friendly to everyone. She also has a gift for photography and business, and she helps her parents run their Shave Ice shop. She is very passionate about helping the endangered monk seals, including one that she helped rescue on the beach that she named Malana.
Family, Friends, and Others
See Also: Minor Characters in Kanani's Stories
Family
Friends and Others
Books
See: Kanani Akina (doll)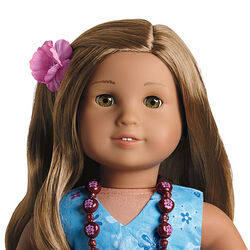 Collection
See: Kanani's Collection
Trivia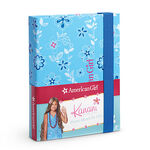 Kanani is the second multiracial character, following Jess McConnell. Her father is Japanese and Hawaiian, and her mother is French and German.
A Kanani-themed photo album was released at the same time of Kanani's debut.
Kanani's books are written in third-person narrative instead of the usual first-person narrative.
Kanani was the last character to have a Whole World Collection.
Kanani was the first Girl of the Year to have a downloadable app, Shave Ice.