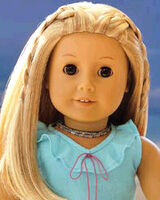 The Kailey Hopkins doll was released in 2003 and available for about one year before retirement. She is considered the Girl of the Year for 2003, though some American Girl items reference her as the Girl of the Year of 2004.
Skin: Light
Eyes: Dark Brown
Hair: Blonde, sun-streaked, straight, no bangs, no part
Kailey came with two free-hanging front braids.
Meet Outfit and Accessories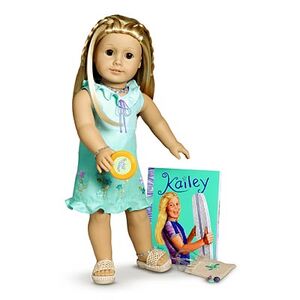 Kailey's meet outfit has little significance to the story and is not shown on the cover of her book; it is intended to simulate a casual outfit in a warmer California climate. Unlike later Girls of the Year, Kailey was packaged with what could be considered her meet accessories.
Dress
Sleeveless A-line sundress. Ombred with light blue shade at the top transitioning to a dark aqua at the bottom. Collar has ruffle with a thin lavender bow. Bottom of dress has ruffle as well. Bottom of dress has four flower appliques in lavender and blue. Green embroidery stitched to create stems of flowers. Attaches in back with velcro.
Shoes
Brown sandals. Macramé design on the strap and sides. Plastic sole on bottom with criss-cross design. Sandals do not have a plastic strap, so can frequently slip off a doll's feet.
Panties
Aqua cotton panties.
Bracelet
Light brown string with alternating pattern of round aqua beads and long translucent white beads. Clasps on end to close.
Necklace
Clear stretchy elastic string with alternating pattern of two long translucent white beads, one round blue bead, one round clear bead, and one round blue bead. Two strands of necklace hook together in back with clasp.
Anklet
Clear stretchy elastic string with pattern that follows necklace. A knot ties off the anklet and has several extra blue beads. Anklet string can, after long use, stretch out and fall off doll's ankle.
Tote bag
Woven beach bag with aqua starfish stitched on front. Fringe at top of bag. Clear purple ribbons for handles and lavender fabric interior.
Starfish and Shells
Two plastic shells and one starfish. All are slightly flexible plastic and have glitter on top. Shells are the same mold in different colors- one blue, one lavender. Starfish is bright purple.
Flying Disc
Orange plastic disc. Front has blue and green sticker in middle with "American Girl" on it. Several circles of grooves are molded in the plastic around the sticker. Disc can fit in tote bag.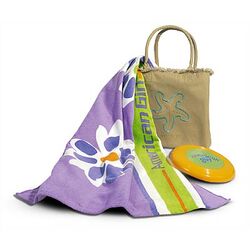 A matching child-size tote bag and flying disc were available as part of the Beach Bag and Towel Set released in 2004. Retail cost was $32.
Trivia
Kailey's meet sundress is not shown on the cover of her book, as she is shown in a wet suit. It is shown illustrated in the book. She shares this trait with Joss.
Mail-order Kailey dolls came in a standard American Girl Today blue box. Dolls sold in American Girl Place stores came in a box with a unique lid. This had a plastic see-through window with the American Girl Today logo underneath. Below that was a teal circle sticker with a purple boogie board shape over the top of it. Kailey's name was written in her book title font in white on the boogie board shape. The see-through window box style was later reused for Marisol. In-store Lindsey dolls also had a see-through window box using the earlier yellow American Girl Today box style.
See Also