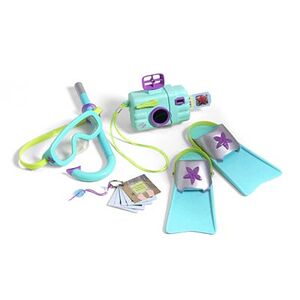 Kailey's Snorkel Set
is part of
Kailey's Collection
and, like her, was released in
2003
and
retired
in
2004
. The retail cost was
$16
.
Snorkel
Blue and aqua snorkel. Silver paint at top where snorkel would go above water. Purple flexible rubber mouthpiece. Like a real snorkel, this is hollow inside and has a small hole where tube connects to the mouthpiece.
Mask
Aqua mask with light green straps that can be adjusted. Lavender starfish molded on either side of the mask. A flexible purple piece is cupped around the green strap, and the snorkel can fit through two holes to attach to the mask. Purple piece, along with snorkel, can move to either side of the mask or can be removed entirely.
Fins
Aqua rubber fins with silver foot cups, lavender starfish accents, and green flexible straps. Straps can be removed to put fins on doll.
Camera
Blue and lavender pretend underwater camera with place for sticker film; when green lever is pushed, film images come out. Film compartment opens in back by pressing two buttons.
Green wrist strap. Bottom right corner has purple, blue, and green AG logo also seen on Kailey's wet suit, boogie board, and board bag.
Film
Two rolls of sticker film to be inserted into the camera. Images have photos of tide pool creatures. Each image on the sticker film can also be individually torn off from the rest of the roll. These photos are the same ones that appear in the guidebook. Four separate photos repeat on the roll, with a total of 12 stickers per roll. Each photo also has different colored backgrounds, alternating between light blue, blue, lime green, and purple.
Guidebook
Guidebook titled "Sea Snoop's Guide to Tide Pools." Metal ring holds all of the pages together, and can be opened and closed to add or remove pages. Attached to the metal ring is a stretchy purple band with clear blue seashell charm. Purple band fits around doll's wrist for snorkeling.
Book has five glossy pages with images and text on both sides. Contains information about tide pools and tide pool creatures, including the hermit crab, bat star, sea urchin, and octopus.
Community content is available under
CC-BY-SA
unless otherwise noted.