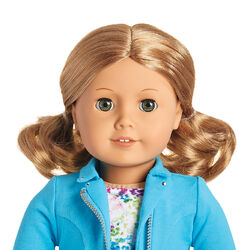 Just Like You #21 is a American Girl of Today doll. She was released in 2001 and retired in 2018.
Features
Skin: Light
Brows: Straight
Hair: Short, curly, honey-blond, no bangs, center part. Three pincurls on either side; these were removed in later dolls.
The doll's hair comes styled into two ponytails.
Trivia
JLY #21 was the first modern doll released under ownership of Mattel, and the first new doll released since the launch of the line in 1995.