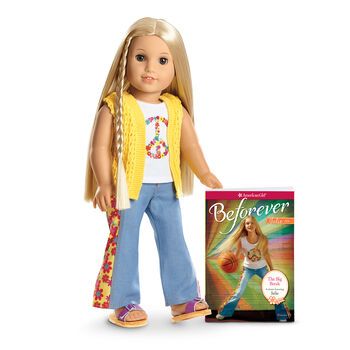 The Julie Albright doll was released in 2007 and updated in Fall 2014 with BeForever.
Julie Doll
Skin: Light
Brows: Straight
Hair: Blonde, hip length, straight, no bangs, center part
Julie comes with a thin braid on the right side of her hair.
Meet Outfit
First Edition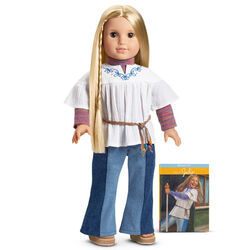 Julie's meet outfit is an example of what many girls wore in the 1970s. Fashion and social mores had changed to permit women and girls to wear pants casually and in work and educational settings (and legally allowed in school with the passage of Title IX in 1972, which prevented dress codes beng explicitly sex-discriminated, e.g. could not state that girls were required to wear skirts and dresses to school), making this the first major historical era where denim pants were fashionable for everyday public wear for all and not regulated to blue-collar work or at-home/casual pants. Furthermore, clothing was starting to lean towards a more "natural" and less formal dress than previous eras, with lots of emphasis on natural fabrics and loose dress.
After the launch of BeForever, the set was sold as Julie's Classic Outfit for $36 until it was retired.
Turtleneck
Multicolored striped long sleeved turtleneck.
Blouse
White, loosely worn peasant-style yoked blouse. Fabric is pleated to a crinkle. Short bell sleeves. Blue and bronze embroidery on the front yoke.
Jeans
Two-toned bell-bottom jeans. The outside of each leg and the back of the jeans are a darker denim, while the inside of each leg is a light denim.
Belt
Braided leather belt with pony beads knotted onto the ends.
Sandals
Tan-colored sandals. They originally had a cork bottom, but were soon changed to faux cork vinyl. Elastic bands help keep them on.
Panties
Pink panties with a printed butterfly.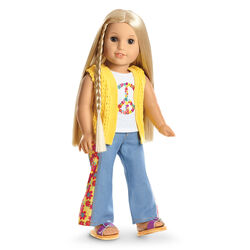 The BeForever Outfit for Julie was available alone for $36 starting in 2014 and retired as a separately available purchase in 2019.
Tank Top
Vest
Jeans
Panties
Shoes
Meet Accessories
First Edition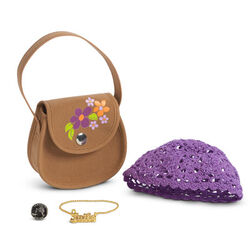 Hat
Purple crocheted beanie-style cap. Flower design.
Purse
Faux-suede shoulder bag purse. Flower stamps on the front. Snap clasp.
Gold Necklace
Gold chain necklace with "Julie" written in script. Clasp back.
Bicentennial Quarter
A replica of a Bicentennial quarter; this was part of a series of commemorative quarter, half-dollar, and dollar coins issued in 1975 and 1976 to celebrate the 200th anniversary (Bicentennial) of the United States. Printed to resemble a coin printed from the San Francisco Mint, which was still in operation.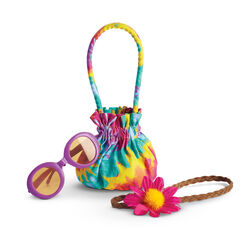 Bag
Headband
Sunglasses
Third Version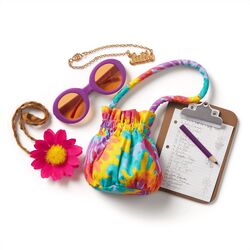 Julie's third set of Meet Accessories added the following items:
Necklace
Petition
Clipboard
Pencil
Stickers
An outfit and accessory set inspired by Julie's BeForever Meet Outfit was available:
Peace Petals Tee: $32
Tie-Dye Belted Skirt: $38
Flower Power Leggings: $24
Crocheted Flower Hat: $16
Tie-Dye Tote: $28
Julie's mini doll was released when she debuted. The doll's body, meet, and book changed in 2014 with the start of BeForever.