Jurassic World: Dominion Dominates Fandom Wikis - The Loop
Play Sound

Julie Albright is the ninth Historical Character, representing the 1970s. Julie was released in 2007 and was part of the BeForever collection.
Personality and Facts
Julie lives in San Francisco and is the youngest of two children. At the start of her first book Meet Julie, her parents Daniel Albright and Joyce Albright have recently divorced and she is moving to a new apartment with her mom and out of the childhood home.
Julie is a fun-loving, happy, and spirited girl who is full of energy and new ideas; she is, however, prone to fits of despair at the upheaval of the world around her. She finds it a duty to stand up against the prejudices against her from the past in contrast to her best friend Ivy Ling, with whom she sometimes fights (as Ivy prefers to adjust to life the way it is and not get into trouble). This is at least partially because Julie is affected by these prejudices including being tormented by the school rumor mill as a tomboy, wanting to be an athlete which is assumed to be only for boys, and a child of divorce. Still, she also feels for others affected by assumptions of tradition. Though Julie initially finds the changes in her life bothersome or uncomfortable--such as her parents' divorce, she often tries to make the best of her situation and even courageously seeks to make some of her own changes. Julie can be thin-skinned, as was evident in Julie's Journey when she was angry at her cousin April for laughing when she had a poor riding experience. She is very determined and often surprises her friends when it appears she might be giving up. Generally once Julie sets her mind on a project, she wants to follow through on completing it to the end. She likes to involve herself in new causes and projects, such as environmental issues or her interest in running for school president (with ambitions to become President of the United States, seen in Changes for Julie). Because of her father's job as a pilot, he doesn't see Julie or Tracy as often, which does trouble Julie. Still, Julie faces her discomfort with the changes in her life with more courage and and optimism than her older sister Tracy.
Julie is a skilled basketball player and finds it unfair that she, as a girl, is dissuaded from playing on the all-male basketball team at her new school. She struggles against the noted sexism and assumptions of the 1970s and once she is able to join her local team, proves herself as a skilled player. This is something that Julie has in common with her mother, who divorced Daniel in part to become an entrepreneur.
Julie is interested in crafting and personal decor and very skilled; she helped her mom decorate her room, made a tennis racket cover for Tracy for Christmas, and made friendship bracelets for her and Ivy. She is often involved in new projects, whether it is for the community, for school, or the environment. Julie enjoys reading and is interested in the Little House on the Prairie series and Nancy Drew; she also keeps a personal journal. She likes reading her horoscope daily and her sun sign is Taurus. Julie's favorite song is "Julia" by The Beatles, especially when her father sings it to her, and her favorite food is chocolate fondue. Her favorite colors are red and purple, but she also claims blue, green, pink, and sometimes yellow.[5]
She has three main nicknames. Ivy calls her "Alley Oop"; her basketball teammates call her "Cool Hand Albright" since she's known for being swift with passes; and Tracy calls her "Jules." Hank also calls her "Sport."
American Girl characterizes her as "creative," "fun," "spirited, "athletic", "groovy," "strong," and "upbeat."
The following are her personal quotes given in BeForever:
Family and Friends
Family
Friends and Other Minor Characters
Books
Other Media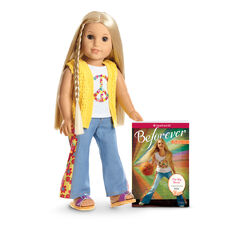 Collection
Trivia
See Also
References