Julie Albright is the ninth of the Historical Characters of the American Girl Dolls, representing the 1970s. Julie was released in 2007 and was part of the BeForever collection.
Personality and Facts
Julie is a fun-loving, happy, spirited girl, full of energy and new ideas but prone to fits of despair at the upheaval of the world around her. She finds it a duty to stand up against the prejudices of the past, as opposed to Ivy, with whom she sometimes fights because Ivy is more concerned with keeping life the way it is and not getting into trouble. This is at least partially because she herself is affected by these prejudices, tormented by the class rumor mill for being a tomboy, an athlete, and a child of divorce, but she also feels for the other people who may be affected.  Her dad is a pilot and, because of his job, often doesn't see Julie. Though Julie has to deal with all of the above, she faces it more courageously and optimistically than her sister Tracy, who whines and goes into denial about the divorce, refuses to speak with her father, and says she'll never be normal again. This is something that Julie has in common with her mother, who left her life as a housewife to become an entrepreneur; it is implied in Meet Julie both in the main story and Looking Back sections that Joyce and Daniel divorced because he disagreed with her independence and decision to enter the workforce, and he expresses similar disapproval of Julie's wish to play basketball in the boys' league, even though he taught her how to play.
Though Julie initially finds the changes bothersome, she tries to make the best of her situation, and courageously makes some of her own changes.
Julie can be thin-skinned. This was most evident in Julie's Journey, when she was angry for some time at her cousin for laughing at her poor horse experience.
Julie is interested in artistic things—making things or decorating. She is shown to be very crafty and creative. She helped her mom decorate her own room in Meet Julie, and Julie also made a tennis racket cover for Tracy for Christmas. Julie is also very determined, often surprising her friends when she seems to be giving up. Usually once Julie sets her mind on a project, she wants to follow through on completing it. She is often involved in new projects, whether it is for the community, for school, or the environment. Julie likes to read, showing interest in the Little House on the Prairie series and Nancy Drew. She likes writing in her journal as a pastime. She shows interest in becoming President of the United States, as shown at the end of Changes for Julie. She likes reading her horoscope; her sun sign is Taurus.
She has three nicknames in her series: "Alley Oop" came from her best friend Ivy; her basketball teammates call her "Cool Hands Albright" because she's swift with basketball passes; and her older sister Tracy calls her "Jules."
Julie's favorite song is "Julia" by The Beatles, especially when her father sings it to her. Her favorite food is chocolate fondue.
Her favorite colors are purple and yellow.
American Girl characterizes her as "creative," "fun," "spirited, "athletic", "groovy," and "strong," and previously characterized her as "upbeat."
The following are her personal quotes in Beforever:
"I'm bright and sunny on the outside. But on the inside, I'm a real fighter."
"My friends call me a True Champion. I'll take a stand when life doesn't play fair."
"Now is my time to stand up and fight for what's right."
"I try to make everywhere I go a little brighter."
"I keep every day colorful by looking on the bright side."
Family and Friends
Family
Friends and other Minor Characters
Books
Other Media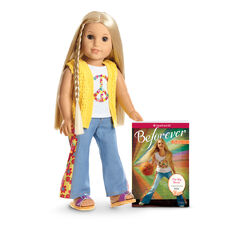 Skin: Light
Hair: Pale blonde, straight (comes with side braid)
Eyes: Brown
Collection
Trivia
Julie was the first and currently the only Historical Character to be simultaneously released with her Best Friend, Ivy Ling.
Julie is the first Historical and Beforever Character to wear pants with her Meet Outfit, as fitting the change in attitudes about clothing for women.[5] She was later followed by Nanea Mitchell.
A movie musical for Julie was planned in 2007, and confirmed in December 2009 by the New York Times,[6] but never went past the proposal stage.
Julie is the first and currently only Historical Character to be released with divorced parents.
Julie's house is located on the corner of two streets called Redbud and Frederick.[7]
While Julie's series and collection are tagged officially as the year 1974 by American Girl, her first book takes place in fall of 1975; no events in her central series take place in her given year.
See also
References
Community content is available under
CC-BY-SA
unless otherwise noted.