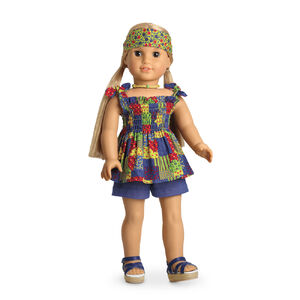 Julie's Patchwork Outfit was introduced to Julie's Collection in 2012 and retired in 2017. Retail cost was $32.
Top
Multi-colored patchwork print sleeveless hip length top. Elastic-stretched bodice (yellow thread) and tied shoulder straps. Small ruffle at top of front bodice. Haphazard prints: red flower print, yellow heart-flower print, plain blue, blue flower print (two kinds), diamond print, green/blue stripes, green flower/butterfly print. Pull on.
Shorts
Denim cotton pull on shorts. Elastic waist.
Sandals
Blue strap thick soled sandals. X cross in front, ankle strap. Tan ridged sole and faux-woven sole sides. Velcro closure.
Bandana
Green flower-print bandana. Red and blue flowers. Tie on.
Necklace
Cord knotted choker necklace. Yellow and green beads. Back yellow bead and loop closure.