Line 3:
Line 3:
 
 
 

==Dress==

 

==Dress==

 
+

Knit sleeveless dress with collar. Fabric is shades of pink, orange, blue, and white, which is set in a wave pattern with floral and bead designs. Velcro up back.

 
+
 
+

== Belt ==

 
+

Beige macramé belt. Each end has three light brown plastic beads woven in, followed by a fringe that hangs down.

 
 
 

==Boots==

 

==Boots==

 
+

Knee-high white vinyl boots. Velcro up back of leg.

 
 
 

==Ticket==

 

==Ticket==

 
+

Neon orange paper ticket. Reads "School Dance. Jack London Elementary 7:00-10:00." "School Dance" is in stylized font and has images of flowers and music notes around it. It has a dotted line and "Admit One" written vertically on the end like a real paper ticket might; however, this part does not naturally separate. Measures 2 3/8" x 1 1/8".

 
 
 

==Poster==

 

==Poster==

 
+

Tye-dyed paper poster advertising school dance. Reads "Groovy" in pink, blue, and pink stylized font. Below that is "Disco Dance Tonight" in white stylized font." Bottom of poster reads "7:00-10:00 Jack London Elementary." Music notes and flower images throughout poster. Measures 8 3/8" x 6 1/4".

 
 
 

==Disco Ball==

 

==Disco Ball==

 
+

Black plastic base with mirrored disco ball on top. Takes 3 AAA batteries on bottom. Switch turns it on and it rotates slowly. Lights reflect off the disco ball.

 
+
 
+

== Instruction Sheet ==

 
+

Instructions for disco ball.

 
 
 

==Trivia==

 

==Trivia==

 

[[File:JulieFunkyFloral.jpg|thumb|left|250px|Julie's Funky Flower Outfit.]]

 

[[File:JulieFunkyFloral.jpg|thumb|left|250px|Julie's Funky Flower Outfit.]]

−

* The dress and accessories were rereleased in '''2015''' as ''Julie's Funky Flower Outfit'' for ''$34'' and ''Julie's Disco Accessories'' for ''$34''.

+

* The dress and accessories were rereleased in '''2015''' as ''Julie's Funky Flower Outfit'' for ''$34'' and ''Julie's Disco Accessories'' for ''$34''.

−
 
−

{{stub}}

 
−

[[Category:Julie Albright]]

 
 

[[Category:Julie's Collection]]

 

[[Category:Julie's Collection]]

 

[[Category:Outfits]]

 

[[Category:Outfits]]
---
Latest revision as of 04:13, 26 August 2020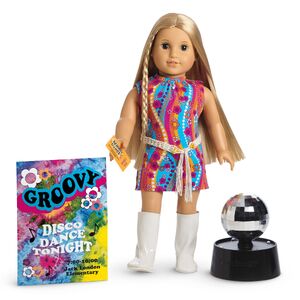 Julie's Dance Set was a limited edition set introduced to Julie's Collection in 2014 and retired in 2015. Retail cost was $64.
Dress
Knit sleeveless dress with collar. Fabric is shades of pink, orange, blue, and white, which is set in a wave pattern with floral and bead designs. Velcro up back.
Belt
Beige macramé belt. Each end has three light brown plastic beads woven in, followed by a fringe that hangs down.
Boots
Knee-high white vinyl boots. Velcro up back of leg.
Ticket
Neon orange paper ticket. Reads "School Dance. Jack London Elementary 7:00-10:00." "School Dance" is in stylized font and has images of flowers and music notes around it. It has a dotted line and "Admit One" written vertically on the end like a real paper ticket might; however, this part does not naturally separate. Measures 2 3/8" x 1 1/8".
Poster
Tye-dyed paper poster advertising school dance. Reads "Groovy" in pink, blue, and pink stylized font. Below that is "Disco Dance Tonight" in white stylized font." Bottom of poster reads "7:00-10:00 Jack London Elementary." Music notes and flower images throughout poster. Measures 8 3/8" x 6 1/4".
Disco Ball
Black plastic base with mirrored disco ball on top. Takes 3 AAA batteries on bottom. Switch turns it on and it rotates slowly. Lights reflect off the disco ball.
Instruction Sheet
Instructions for disco ball.
Trivia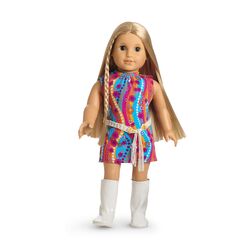 The dress and accessories were rereleased in 2015 as Julie's Funky Flower Outfit for $34 and Julie's Disco Accessories for $34.