This is a list of all the items that have been or are currently available for Julie Albright in her Historical Collection. Items in italics have been retired.
Doll and Meet Accessories
Julie comes with a copy of Julie: The Big Break.
Julie originally could come with a copy of Meet Julie or a boxed set of all six Central Series books (hardback or paperback). With BeForever, Julie came with a copy of The Big Break.
BeForever and Post-BeForever Outfits
BeForever and Post-BeForever Accessories
Inspired-By Clothing
Julie's School Collection was unique among the historical characters with school collections. Rather than focusing on the schoolroom aspect of education, Julie's focus was on basketball. This is because one of the central themes to Julie's stories is Title IX and women's equality in school sports. The subplot of Julie fighting to join and subsequently playing on her school's otherwise all-male basketball team is important to the first two stories in her series. To highlight this, her school collection initially centered on basketball.
Julie's holiday collection focuses on the tea with her father; meanwhile the book, Happy New Year, Julie!, focuses on the Chinese New Year.
Extra Items and Outfits
Extra Outfits
Extra Items
Julie's Ultimate Collection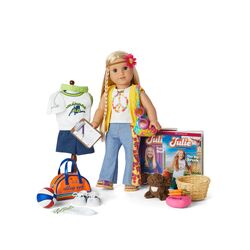 Julie's Ultimate Collection consists of the Julie doll and book, Julie's accessories, her second book, Nutmeg, her home game uniform, and her home game accessories for a cost of $228 ($10.99 less than purchasing components separately).
Books
See Also