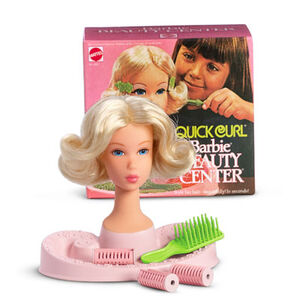 Julie's Christmas Gift was introduced to Julie's Collection in 2007 and retired in 2008. It is not shown, but is associated with the book Happy New Year, Julie!. Retail cost was $18.
Box
Historically accurate box for the Quick Curl Barbie Beauty Center.
Styling Head
Barbie styling head on pink stand.
Curlers
Six pink hair curlers.
Brush
Lime plastic square brush.