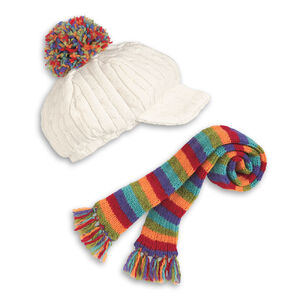 Julie's Cap and Scarf were introduced to Julie's Collection in 2007 and retired in 2014. It is associated with the book Changes for Julie and it was paired with Julie's Casual Outfit. Retail cost was $16.
Cap
White knit newsboy cap. Multicolored pom-pom of red, orange, green, and blue yarn at top.
Scarf
Knit scarf. Red, orange, green, blue, and purple stripes. Fringe at end.
See Also