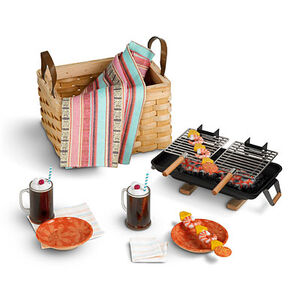 Julie's Birthday Goodies was introduced to Julie's Collection in 2008 and retired in 2015. They are associated with the book Julie and the Eagles. Retail cost was $58.
Grill
Black metal grill. Wooden handles and stand. Two adjustable grates and pretend coals.
Skewers
Two shrimp and pineapple skewers.
Plates
Two orange flowered plastic plates.
Napkins
Light blue/purple/orange plaid napkins.
Floats
Two root beer floats. Glass container with plastic handle; floats have whipped cream and cherry. Blue and white striped straw sticking out of top.
Basket
Woven picnic basket with brown faux leather handles
Blanket
Pink, red, yellow, purple, and light blue striped woven blanket