This article is about the Mattel version of the furniture set. For the BeForever version, see Julie's Bed and Bedding (BeForever).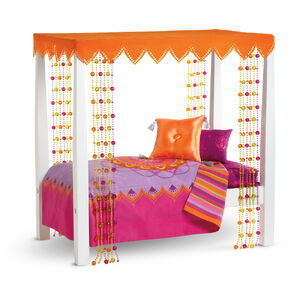 Julie's Bed and Bedding was introduced to Julie's Collection in 2007 and retired in 2015. Retail cost was $125.
Bed
White wooden four-poster bed. Orange scalloped canopy with cascading green and pink beads at each corner.
Mattress
Tufted mattress. Fabric is purple with a pink fleur-de-lis pattern.
Pillow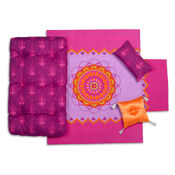 Dark purple with pink graphic fleur-de-lis pattern.
Bedspread
Reversible cross-shaped bedspread. On one side it is hot pink with a purple and orange circular design in the middle with a scalloped purple, orange, and green design border. The other side has orange, purple, lavender, pink, lime, and navy stripes.
Throw Pillow
Bright orange satin throw pillow. Gold tassels in each corner.
See Also