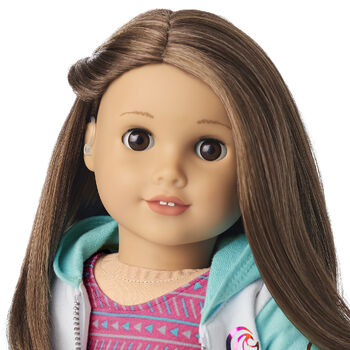 The Joss Kendrick doll was released in 2020 and will be available until retirement. She is considered the Girl of the Year for 2020.
Skin: Light
Hair: Brown, right part, slight wave, light sun-streaked highlights
The hair comes styled with a twist side pony on the right side.
Meet Outfit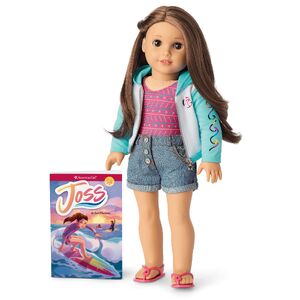 Hoodie
Knit zip-front long sleeved hoodie. White body with light blue hood, sleeves, and hem trim. Rainbow iridescent stylized waves up both arms; circular rainbow iridescent stylized wave on front left chest. Functional silver separating zipper with star pull.
Shorts
Light blue upper thigh length denim shorts. Gold top stitching. Two non functional pockets; right has functional "coin" pocket, while left has magenta and lime intertwined zigzag lines. Elastic upper waistband at back; belt loops at front. Three silver buttons down Velcro front fly. Cuffed and stitched in place at bottoms.
Swimsuit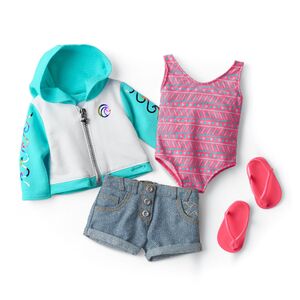 Pink knit stretch one piece/maillot swimsuit. All-over pattern of light blue and green alternating diagonal lines, triangles, and horizontal lines. Low scoop back.
Sandals
Coral plastic slip-on beach sandals. "Toe" section is a molded loop. Flat soles.
These are a color variation of the sandals that came with Lea's Beach Dress and the Summer Fun Swimsuit Set.
Panties
Pink knit panties. White elastic edging.
In box these are packaged separately in a bag underneath her book along with the hearing aids in case.
Hearing Aids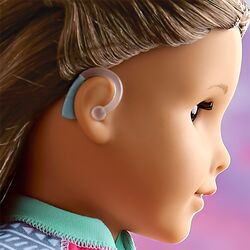 Two behind-the-ear hearing aids. Blue body with clear curve and flattened ear mold.
The hearing aids are molded to fit in the right ear and will stay on without any other attachment. They come in the case with the brush which is tucked in a well in the plastic beneath with the book and panties.
Brush
Black flexible plastic hearing aid cleaning brush.
Case
Light blue rounded rhombic hearing aid case. Back hinge with molded clasp to shut. White logo on top of case.
Pamphlet
Joss includes a pamphlet with instructions for her hearing aid.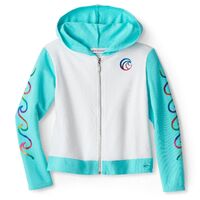 The Catch a Wave Top for children is available for a cost of $35.
See Also