"Joss" redirects here. For the doll, see Joss Kendrick (doll); for the book, see Joss.
Joss Kendrick is the eighteenth Girl of the Year released by American Girl. She was released in 2020.
Character
Joss is a surfer who has been surfing since she was six years old. She considers herself a "speed demon" who aims for trying to catch air (aerial tricks) most. She also skateboards, which helps with her surfing practice, and over the course of the series takes up cheerleading. She is right handed and "goofy-footed", surfing and skateboarding with the right foot leading on the board and pushing with the left as her dominant.
Joss is the youngest of three and has two older brothers: Liam and Dylan. All three children are surfers, as well as their mom; their dad is a bad swimmer and doesn't surf at all. The Kendricks live in Fountain Valley, California, and Joss is in the fourth grade at the start of the series. Her favorite athlete is Tina Hart, a professional surfer.
Joss was born with hearing loss. She is fully deaf in her left ear and wears a hearing aid in her right ear to assist her ability to hear. She often communicates with American Sign Language (ASL), often when she cannot hear clearly, and does so with her whole family. Early in the morning or late at night, when her hearing aid is out, is Quiet Time/"QT", where she can tune out the world and make everything almost quiet, with sounds too blurry to process. She has adapted to her hearing loss her whole life with various methods, such as placing her phone under her pillow so the vibrations wake her (since she cannot hear the alarm). She gets frustrated at time when people do not face her when speaking so she can understand, or speak to her loudly when they learn she has hearing loss.
Joss is somewhat impulsive and sometimes does not think before she acts, especially when her older brother Dylan eggs her on and she feels she must prove something to him. This can lead to her causing injuries or being injured herself.
To help her focus on tricks she is trying, she pictures them in her head, a tip from Liam to visualize her tricks to prepare to actually do them. This gets crossed at times when she starts performing in cheerleading, both for good (creating the "Victory Air") and bad (thinking of surf tricks at cheer practice and falling off the trampoline).
Family and Friends
Family
Mr. Kendrick: Joss's father.
Mrs. Kendrick: Joss's mother.
Liam Kendrick: Joss's eldest brother.
Dylan Kendrick: Joss's second older brother.
Friends
Sofia Goto: Joss's best friend.
Brooklyn Tillerman: Joss's friend.
Books
See: Joss Kendrick (doll)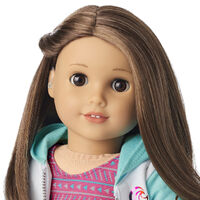 Collection
See: Joss's Collection
See Also
Minor Characters in Joss's Stories
Trivia
Joss is the first character in American Girl's history to have a visible disability; this is reflected by the inclusion of a hearing aid with her doll.
Like several Historical Characters, Joss's creation involved a panel to assist in accurate portrayal of sports and hearing loss: Crystal da Silva, Dr. Sharon Pajka, Julie Peterson, Sara Jo Moen, Jennifer Richardson, and Bianca Valenti.
Joss is the third Girl of the Year to have an official middle name after Jess McConnell and Chrissa Maxwell.
Joss is the second Girl of the Year character to introduce a new face mold after Jess.
Joss's first book (Joss) is set in May-June 2020 and include her attending school in-person and enjoying casual, crowded time on beaches with family and friends without restrictions. However, on March 19, 2020, California Governor Gavin Newsom and the State Public Health Officer placed the state of California under stay-at-home orders (except to get food, care for a relative or friend, get necessary health care, or go to an essential job) due to the COVID-19 pandemic, which included the closure of Orange County schools and transition into distant learning by April. Therefore Joss's books as written are factually incorrect. However, this could not have been anticipated as the books were written prior to the pandemic.
References
Community content is available under
CC-BY-SA
unless otherwise noted.