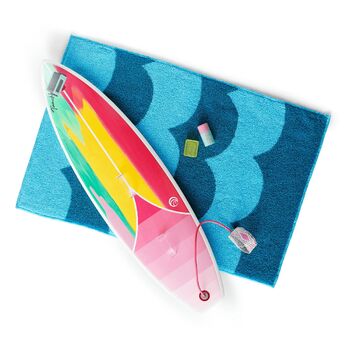 Joss's Surfboard Set is part of Joss's Collection. The retail cost is $50.
Surfboard
Plastic 18 1/2" long "shortboard" style surfboard. Topside (deck) is blue, yellow, pink, and magenta from nose to middle and thick pink striped ombre from middle to tail; overall contrasting white lines and white edges (rails). Nose has on left upright side signature of Tina Hart; middle right of deck has Joss Wave logo. Underside (bottom) is light blue with pink line (to simulate stringer) and full American Girl logo at center; three pink translucent rubber fins at tail ("thruster"). Middle of deck has two clear bands for holding doll on surfboard.
Nose has pink-trimmed hole plug for camera mount. Grey leash plug with pink ring at tail. Attached elastic surf leash at plug, connected to grey surf leash cuff; cuff has pink, grey, and white diamond-print ribbon topstitched on and closes with velcro.
Towel
Terrycloth beach towel. Six-stripe pattern of alternating blue and light blue scalloped waves; colors are reversed on backside. Surged at edges. Dimensions 17 1/2" long by 11 1/2" wide.
Board Wax
Yellow toy surf wax block. Translucent yellow with embedded SURF on obverse and WAX on reverse (in all capital letters.)
Camera
Light blue action camera. Lens and decor texture on front of black with power button and American Girl logo in silver under black texture. Grey diamond texture pattern on top, sides, and bottom. Back has grey screen printed with 00:00:18 | 01.37.21 at top edge and universal symbols for wifi, camera, and battery power at bottom. Indents on side to mount and hold camera to camera mount.
Camera Mount
Grey camera mount. rectangular with small bumps to click camera in place. Ball at base to pop into and out of surfboard. Comes attached to surfboard but removable.
Sunscreen
Pretend sunscreen. Light blue base with three pink palm trees and pink removable lid. Base has SUNSCREEN (all caps) written vertically and SPF 50 on largest palm fronds. Lid removes to show white plastic molded "sunscreen."
Trivia
In the books, Joss gets Tina Hart to sign this surfboard when their group wins the Save the Coast video competition. The surfing camera is owned and used by her brother Dylan, not Joss.
A second surfboard was released in her collection with Joss's Volkswagen Surf Bus.
See Also
Community content is available under
CC-BY-SA
unless otherwise noted.