Joss's Cheer Team Jacket is part of Joss's Collection. Retail cost is $15.
Only customers with an AG Rewards membership can purchase the jacket.
Jacket
Satin athletic jacket. White body, collar and sleeves with light blue shoulders, blue sides, and blue cuffs, Shine Athletics logo on front left chest; logo in pink script with blue, orange, and pink design elements.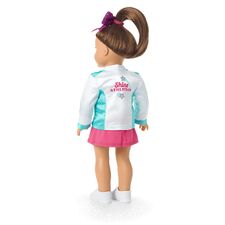 Center back has Shine Athletics with blue shooting stars curved around; stars have pink outlines and inner line and blue trails. Blue functional zipper with AG star. American Girl plastic logo on lower left.