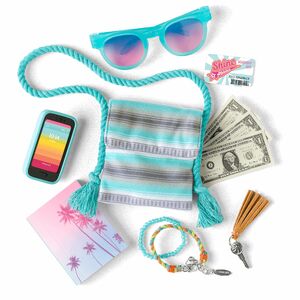 Joss's Accessories are part of Joss's Collection. The retail cost is $30.
Bag
Sunglasses
Dollar Bills
Three paper dollar bills.
Phone
Screen
Notebook
Key
Brown suede tassel keychain with silver key on the end. The key has a wave logo that is used in other parts of Joss's collection. The key can be used with Joss's Volkswagen Surf Bus to turn on the ignition.
Bracelets
Two bracelets. One has light blue beads on an elastic band. The other is woven with orange, blue, and light green thread. It ties with a silver clasp that has a silver American Girl charm on the end. Although both bracelets are marketed as gifts from Sofia, in the books, Joss only refers to a single bracelet (the woven one). Both girls wear matching bracelets and see them as a symbol of their friendship.
ID Card
Plastic ID card for Joss's cheer gym. Card has the pink "Shine Athletics" logo and reads "Membership Card" in pink font. Blue design in background. "Joss Kendrick" and a black barcode are on the bottom right corner.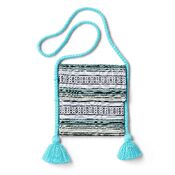 The Woven Tassel Bag is available for the cost of $25.
Community content is available under
CC-BY-SA
unless otherwise noted.