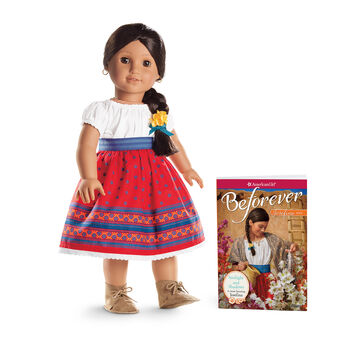 The Josefina Montoya doll was released in 1997 and updated in Fall 2014 with BeForever. A Special Edition version was released for the 35th anniversary in 2021.
Josefina Doll
Face Mold: Josefina Mold - Josefina was the first doll with this face mold.
Skin: Medium
Hair: Very dark brown with auburn highlights, straight, no bangs, no part
Josefina comes with her hair braided back.
Eyes: Dark Brown
Brows: Feathered
Other: Josefina has permanent gold hoop earrings in each ear.
Meet Outfit
Classic Edition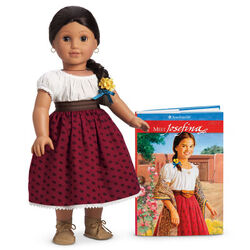 Josefina's meet outfit reflects daily fashion on a Mexican rancho in 1824; women wore less restrictive clothing than what was worn in white American fashion of the time. Casual clothing consisted of long blouses with simple skirts and sashes. The outfit shows influences from Native people of the area as well.
After the launch of BeForever, the set was sold (minus hair accessories) as Josefina's Classic Outfit for $36.
Camisa
White camisa (blouse) with short puffed sleeves and a gathered neckline. Small white trim at neckline and sleeves. Velcros up the back. The camisa comes down to about the knees.
Skirt
Maroon skirt with black flower print; waistband and white trim sewn to the bottom on a white fabric strip. Velcros near the waistband.
Sash
Brown woven sash with darker brown stripes. Braided at the ends. Worn around the waist over the skirt.
Drawers
White knee-length drawers with elastic at the back and a V panel at the front.
Moccasins
Brown soft leather moccasins that lace up and tie in the front. The laces were originally a leather string, but changed into a more shoelace-like string in the Mattel years. Her moccasins were originally real leather and were changed to faux leather by 2005.
Hair Ribbon
1/4" wide dark turquoise ribbon. Is tied around the bottom of Josefina's braid.
Hair Flowers
Three faux yellow primroses on a shared plastic stem.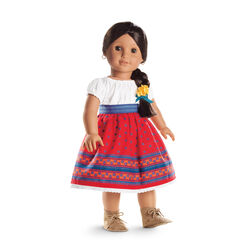 The BeForever Outfit for Josefina was available alone for $36 starting in 2014 and retired as a separately available purchase in 2018. Unlike most BeForever revisions, the only major changes in the outfit were to the skirt and belt; otherwise the components are identical.
Camisa
White camisa blouse; identical to to the Classic one.
Skirt
Bright red calf length skirt. Skirt has blue flower print, three bright blue stripes and two orange stripes with blue flowers. White scalloped trim sewn to the bottom on a white fabric strip to simulate an underpetticoat. Velcros at the waistband.
Belt
Bright royal blue woven belt. Darker blue horizontal stripes. Braided at the ends. Worn around the waist over the skirt.
Drawers
White knee-length drawers; identical to to the Classic pair.
Moccasins
Light brown faux leather moccasins with white lining. Lace up and tie in the front.
Hair Ribbon
1/4" wide dark blue ribbon that comes tied around the bottom of Josefina's braid.
Hair Flowers
Three faux yellow primroses on a shared plastic stem; identical to the Classic flowers.
Meet Accessories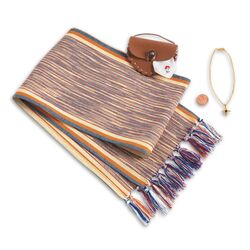 Josefina's accessories were not dramatically changed even with the BeForever release. The only change to the accessories was in 2007 when her rebozo switched from a diamond pattern to the current striped pattern.
Rebozo
A 34" long (not including fringe) by 5" wide rebozo. First edition has a subtle diamond pattern on main body, while current edition has multicolored stripes. Comes with a pamphlet discussing three other ways to wear the rebozo--wrapped around the head to cover from the sun, tied around one shoulder to carry items, and wrapped and tied around the upper body.
It is shown wrapped loosely around Josefina's arms on the cover of Meet Josefina.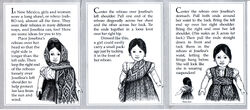 Necklace
A gold cross-shaped pendant on a gold chain with a faux-garnet stone in the center. Older versions close with a latch clasp, while BeForever and later versions close with interlocking hearts.
Leather Pouch
A leather sewn leather pouch that closes with a button and leather loop. It is designed to attach to the belt. The pouch was later changed to faux leather.
Handkerchief
A white sheer handkerchief that has a Mexican style embroidered flower.
Jola coin
A replica of a copper jola (HOH-la) coin. The pamphlet that discusses the rebozo also discusses the jola as a coin of Mexico. Newer versions have "COPY" written in much bigger letters on the back of the coin.
35th Anniversary Edition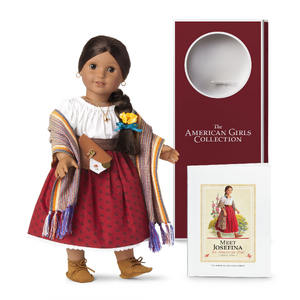 For American Girl's 35th Anniversary, Josefina was rereleased as a limited edition bundle. The bundle includes the doll in the Classic Meet Outfit, current meet accessories, the first edition parchment style of Meet Josefina and an older-style box (modified with visibility window) for a total cost of $150. This bundle was sold out and retired by late July 2021.
Unlike standard dolls sold at this time, Josefina has neck strings. The rebozo is the newer style with stripes rather than diamonds. The original skirt's lace trim has a triangular design, but the new trim has two eyelet rows. Like her BeForever version, Josefina has a faux leather pouch and moccasins, and her necklace closes with an interlocking heart.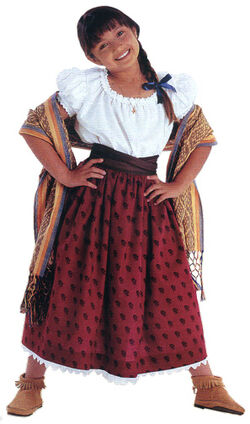 The matching outfit for children was available:
Camisa: $32
Skirt and Sash: $45
Rebozo: $36
Petticoat: $20
Garnet Necklace: $18
The clothes were phased out around 2000.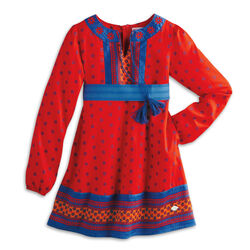 A dress inspired by Josefina's BeForever Meet Outfit, the Desert Flower Dress, was available for $52 and retired in 2017.
Specific differences between the Pre-Mattel and Mattel versions of the doll are minimal, likely because Josefina was the last Historical Character released before the transition.
Trivia
Josefina was the first doll released with her face mold and feathered eyebrows.
Josefina is the only transitional BeForever character who did not have her meet accessories updated.