Josefina Montoya is the sixth of the Historical Characters, representing the New Mexico under early Mexican rule (prior to ownership by the United States after the Mexican-American War). Josefina was introduced to the American Girls Collection in September 1997 and was part of the BeForever collection.
Personality and Facts
Josefina Montoya (full name María Josefina Montoya) is a Mexican girl living on a rancho (ranch) near Santa Fe during the time when the area was under Mexican rule, only a few years after Mexican independence from Spanish colonialism.
Josefina lives with her father and three older sisters. Her mother died a year before the start of the series, when Josefina was eight. She feels lost and unsure without her Mama, and, along with her family, misses her terribly. Josefina is a patient girl who is very thoughtful, and many scenes show her thinking about and observing nature, life, the people around her, and her surroundings. Josefina has a hobby of collecting things that remind her of her mother to put in her memory box. She does not think of herself as very brave; she is scared of snakes, lightning, and guns to name some things. She is very shy around people she does not know well, but very playful with her sisters and even attempts to keep peace between Francisca and Clara by interrupting their fights, usually by joking. Josefina is often full of good humor, and she likes to joke and tease. She greatly dislikes goats, especially Florecita. Like her father, she is quiet except when with family, but full of ideas. She is especially touched by music; the first time she hears Tía Dolores play the piano, she thinks the music is exceptionally beautiful and this motivates her to learn to play. Josefina, along with her sisters, love chocolate. She enjoys caring for flowers, like she did with Mamá. Josefina is interested in foreigners and distant places, and begins to become well-acquainted with an American in Josefina Saves the Day. Josefina hopes to become a curandera, a healer, like her godmother Tía Magdalena. Starting from Happy Birthday, Josefina!, Tía Magdalena teaches Josefina how to become one.
Josefina is always trying to see the positive side of things, and is very idealistic, as her sisters often point out. Being the youngest in the family, Josefina often wants to prove how competent she is. She is very careful of her approach with others, and tries to remember her manners. Josefina can be quite stubborn when she sets her heart on things, and she never gives up. Josefina is full of energy and can be quite restless.
Josefina is gentle, sweet, helpful, loyal, sensitive, and a good listener. She wants to use her heart to heal others and believes "kindness is the best medicine". She's never too shy to help others, despite her quiet and shy appearance.
She is also described as artistic.
Josefina's family speaks fluent Spanish; while the books are written in English (with the exception of the Spanish books), Spanish words are integrated into the stories and defined in the back of each book.
American Girl characterizes her as "caring" and "hopeful." American Girl publishing.com also characterizes her as "faithful".
Family and Friends
Family
Friends and other Minor Characters
Books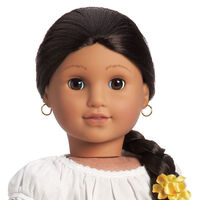 Collection
Trivia
Al leer este libro, es posible que encuntres ciertas palabras que no te resulten conocidas. Algunas son expresiones locales, que la población de habla española usaba, y usa aún hoy, en Nuevo México. Otras son usos antiguous que alguiene como Josefina y su familia habría utilizado en el ano 1824. Pero piensa que, si dentro de dos siglos alguien escriba una histotoria sobre tu vida, es probable que nuestra lengua le resultara extraña aun lector del futuro.

Translation: "As you read this book, you may come across certain words that are unfamiliar to you. Some are local expressions, which the Spanish-speaking population used, and still uses today, in New Mexico. Others are ancient uses that someone like Josefina and her family would have used in 1824. But think that, if in two centuries someone writes a story about your life, it is likely that our language will be strange to a future reader."
See also
References
↑

Pronounced roughly "hoh-SAY-fee-nah"

↑ In most Spanish-speaking countries of the time, children carry the paternal and maternal surname. See Spanish naming customs on Wikipedia.
↑ The Glowing Heart starts in January 1827.
Community content is available under
CC-BY-SA
unless otherwise noted.