"Josefina" redirects here. For the doll, see Josefina Montoya (doll).
Josefina Montoya is the sixth of the Historical Characters, representing the New Mexico area under early Mexican rule (prior to ownership by the United States after the Mexican-American War). Josefina was introduced to the American Girls Collection in September 1997 and was part of the BeForever collection and the 35th Anniversary Special Edition Rerelease.
Personality and Facts
Josefina Montoya (full name María Josefina Montoya Romero) is a Mexican girl living on a rancho (ranch settlement) fifteen miles away from Santa Fe during the time when the territory was under Mexican rule, only a few years after Mexican independence from Spanish colonialism.
Josefina lives with her father and three older sisters, among many other members of the household and her extended family. Her mother Mamá died a year before the start of the series, the summer after Josefina turned eight. She feels lost and unsure without her mama and, along with her family, misses her terribly. Josefina is a patient girl who is very thoughtful, and many scenes show her thinking about and observing nature, life, the people around her, and her surroundings. Josefina collects things that remind her of her mother to put in her memory box and later adds things for other family members and events in her life rather than keeping it exclusive . She does not think of herself as very brave; she is scared of snakes, lightning, and guns to name some things. She is very shy around people she does not know well, but very playful with her sisters and even attempts to keep peace between Francisca and Clara by interrupting their fights, usually by joking. Josefina is often full of good humor, and she likes to joke and tease. She greatly dislikes goats, especially Florecita. Like her father, she is quiet except when with family, but full of ideas. She is especially touched by music; the first time she hears Tía Dolores play the piano, she thinks the music is exceptionally beautiful and this motivates her to learn to play. Josefina, along with her sisters, love chocolate. She enjoys caring for flowers, like she did with Mamá, and after her mama's death she continues to care for the flowers she planted. She takes after her mother in many ways, such as being able to soothe her grandmother after a journey, having the same small hands, round cheeks, and sweet voice. She's also skilled at remembering many of the songs Mamá taught her and her sisters. She is a skilled singer with a skilled voice, but shy about her voice and singing for others.
Josefina's family speaks fluent Spanish, as befitting their culture; while the books are written in English (with the exception of the Spanish books), Spanish words are integrated into the stories and defined in the back of each book.
Her whole family is religious, specifically Catholic; her secondary name, Josefina, is due to the fact she was born on San José's (Saint Joseph) feast day. Her family has taught her various cultural behaviors of the time, such as politeness and childlike and ladylike deference to men and elders; she is expected not to speak to adults unless they speak first to her, not to interrupt their discussions, not to speak at all openly to people she doesn't know or foreigners, and not to speak impolitely and out of turn to the adult members of her family such as her father, aunts, and grandparents. (She and her sisters, for example, are shocked when Tía Dolores speaks openly to Andres about her plan to make up for the sheep lost, as he is the patron and it is culturally rude for a woman that is not the equal patrona to interrupt him or suggest what to do; furthermore, it is something their late mother would have never done around their father, even as his wife.) She makes mistakes in this, but she is young enough for some of her outbursts to be excused. She is expected to contribute to the household tasks and be responsible; she has several daily chores such as fetching water for the household, helping with food preparation, and caring for her nephew, as it takes many people to help with daily life and her family live a rural farm-and-ranch life. She later learns to weave yarn into blankets for trading; she also knows how to knit, sew, and embroider.
Josefina is gentle, sweet, helpful, loyal, sensitive, and a good listener. However, she is still capable of feeling jealous or upset, especially when it comes to wanting to impress the adults in her life such as her aunts and her father. As the youngest of her sisters, she doesn't have as much adult attention as they do and this sometimes bothers her. She wants to use her heart to heal others and believes kindness is the best medicine. She's not too shy to help others, despite her quiet demeanor. She has an artistic side. Josefina is always trying to see the positive side of things and can be very idealistic, as her sisters often point out. Being the youngest in the family, Josefina often wants to prove how competent, responsible, and skilled she is, especially to Tiá Dolores. She is very careful of her approach with others and tries to remember her manners. Josefina can be quite stubborn when she sets her heart on things, but can be frustrated with the slow need to learn. Josefina is full of energy and can be quite restless. Josefina shows some interested in foreigners and distant places, more hearing about them than the desire to travel herself.
Josefina hopes to become a curandera, a healer, like her godmother and aunt Tía Magdalena. Starting from Happy Birthday, Josefina!, Tía Magdalena begins to train Josefina how to follow in her career as a healer.
American Girl characterizes her as "caring" and "hopeful." American Girl Publishing additionally characterizes her as "faithful".
Family and Friends
Family
Friends and Other Minor Characters
Books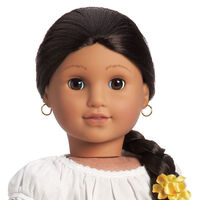 Main article: Josefina Montoya (doll)
Face Mold: Josefina Mold - Josefina was the first doll with this face mold.
Skin: Medium
Hair: Dark brown, straight, center part, no bangs
Eyes: Dark brown
Collection
Advisory Board
Josefina's advisory board members consisted of:
Rosalinda B. Barrera: Professor of Curriculum and Instruction, New Mexico State University, Las Cruces
Juan R. García: Professor of History and Associate Dean of the College of Social and Behavioral Sciences, University of Arizona, Tuscon
Sandra Jaramillo: Director, Archives and Historical Services, New Mexico Records Center and Archives, Santa Fe
Skip Keith Miller: Co-Director/Curator, Kit Carson Historic Museums, Taos NM
Felipe R. Mirabal: former Curator of Collections, El Rancho de la Golondrinas Living Museum, Santa Fe, NM
Tey Diana Rebolledo: Professor of Spanish, University of New Mexico, Albuquerque
Orlando Romero: Senior Research Librarian, Palace of the Governors, Santa Fe, NM
Marc Simmons: historian, Cerrillos, NM
Trivia
Like Kaya and Felicity, Josefina's books are set in a time and place that is not part of the United States yet; at the time of her books New Mexico is still part of Mexico. A majority of the southwest became part of America after the Mexican American War in 1848.
Josefina is the first and currently the only Historical character who is of Latin American descent.
Josefina, like Addy Walker before her, was released with gold loop earrings, and they are the only two characters with attached earrings.
When Josefina was first released, all her books were released in Spanish and English with the Spanish translated by Jose Moreno. The books are written in an antique style Spanish to represent the style of Spanish that would have been spoken in New Mexico in 1824. A disclaimer regarding the use of antique Spanish, written in modern Castilian Spanish, is in the front of all of the Spanish versions of Josefina's books:
Al leer este libro, es posible que encuntres ciertas palabras que no te resulten conocidas. Algunas son expresiones locales, que la población de habla española usaba, y usa aún hoy, en Nuevo México. Otras son usos antiguous que alguiene como Josefina y su familia habría utilizado en el ano 1824. Pero piensa que, si dentro de dos siglos alguien escriba una histotoria sobre tu vida, es probable que nuestra lengua le resultara extraña aun lector del futuro.
Translation: "As you read this book, you may come across certain words that are unfamiliar to you. Some are local expressions, which the Spanish-speaking population used, and still uses today, in New Mexico. Others are ancient uses that someone like Josefina and her family would have used in 1824. But think that, if in two centuries someone writes a story about your life, it is likely that our language will be strange to a future reader."
See Also
References
↑

Pronounced roughly "hoh-SAY-fee-nah"

↑ In most Spanish-speaking countries of the time, children carry both the paternal and maternal surname. See Spanish naming customs on Wikipedia.
↑ The Glowing Heart starts in January 1827.